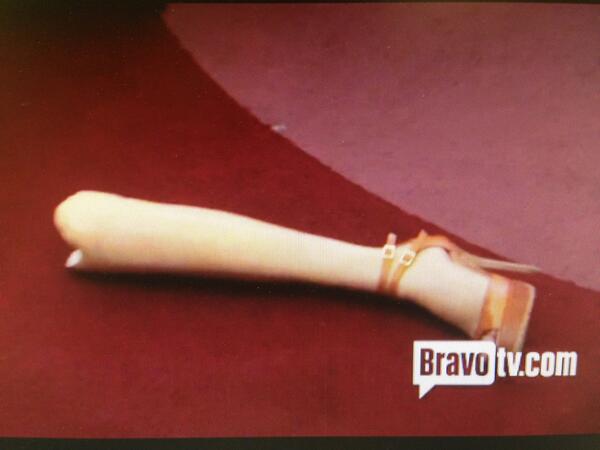 By Ajay Rochester
Beware: Pun heavy post. 
Get set for a Housewives series like you have never seen before featuring an unlikely star - Aviva Drescher's leg! When Bravo aired the teaser for the latest series, which kicks off at 9 pm tonight, it ended with a 2 second shot featuring Aviva's artificial limb seemingly discarded on the floor of a restaurant with more than Ramona bug-eyed over what may have happened moments before to cause this.
Talk about knee jerk reaction: it was all anyone was talking about the next day: Aviva's leg and how it ended up separated from her, news stories legging their way around the world, no doubt creating a Theresa Guidice table flipping scandal we will all be on the edge of our seats to see play out.
Twitter exploded and within minutes there was the new Twitter handle @AvivasLeg with HIGHlarious tweets, leggy puns and references to how close  "the leg" and Aviva really are: "We're joined at the hip….no really!". These will no doubt increase in number with the series start tonight and should be a fun viewing companion, similar to how Twitter made The Bachelor fiasco that was Juan Pablo much more palatable than his endless repetition of "Ees Okay" when it quite obviously was NOT!
But Aviva, the only born and bred New Yorker in the show,  embraces it with good cheer, obviously having come to terms with her injury a long time ago, writing about it in graphic detail in her new memoir "Leggy Blonde", an inspiring account of overcoming adversity and making the most of your life. 
There's no doubt Bravo are not tip toeing around anyone's sensitivities this season, determined to make a memorable start and getting a leg over on any rival shows, while we will no doubt wait with baited breath to see who of the Housewives will kick off the female fight fest with what is assured to be an endless array of foot in mouth moments and of course find out how, exactly, Aviva's leg ends up across the room.Assault with a leggy weapon? We will have to watch to see........
Ajay Rochester is the former host of Biggest Loser Australia, author of five books and blogs at www.findingmymojo.com.