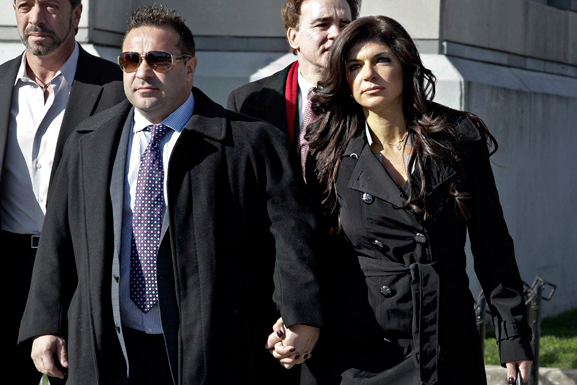 New Jersey Housewife, Teresa Giudice, and her husband Joe Giudice appeared in Federal Court in Newark, NJ this morning, and pleaded guilty to several fraud charges. The reality TV couple had originally entered "not guilty" pleas on all charges.
Teresa made a statement following the hearing:
"Today, I took the responsibility for a series of mistakes I made several years ago. I have said throughout that I respect the legal process and thus I intend to address the court directly at sentencing. I will describe the choices I made, continue to take responsibility for my decisions, and express my remorse to Judge Salas and the public. I am heartbroken that this is affecting my family-especially my four young daughters, who mean more to me than anything in the world. Beyond this, I do not intend to speak specifically about the case outside of court, at the recommendation of my attorney and out of deference to the government and our legal system."
The couple will appear for sentencing on July 8th, 2014. Joe Giudice is potentially facing 37 to 48 months in jail, and possible deportation to Italy. Teresa Giudice, mother of four young daughters, is potentially facing 21 to 27 months in jail.
Allegedly, Teresa's lawyer is seeking a sentence below the minimum sentencing because of "minimal involvement," and her position as a mother.
Teresa and Joe Giudice have pleaded guilty to nine fraud charges including bankruptcy fraud, failing to pay taxes, and conspiracy to commit mail fraud and wire fraud.
Photo courtesy of Bravo