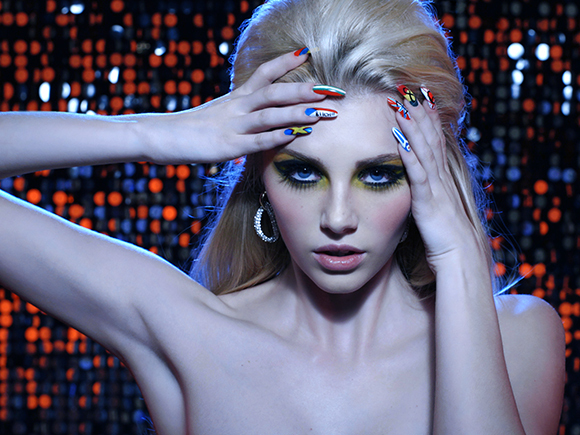 by Gina Scarpa
For much of this season on America's Next Top Model, Jourdan Miller established herself as a frontrunner. She broke a record, winning best photo more times than any other model in the show's history, and rarely stumbled (pun intended) in the competition. She beat out Marvin Cortes in the end and we chatted with the winner today about her rise to the top this season on Top Model.
Q. Gina, RealityWanted: What were your expectations coming into this season of America's Next Top Model?
A. Jourdan: You know, I really didn't have any because once I found out that there would be guys in the mix, I was wondering how they were going to pull that one off. It's so different with women than it is with men. I was always on my toes wondering, "How are they going to make this work for both of us?"
Q. Gina, RealityWanted: How was it to have guys on the season, competing against you? Were you expecting they'd pick a guy in the end?
A. Jourdan: It was tough having the guys in the mix because the challenges and photo shoots were so different. I feel like if it were just females, I would've dominated. With the guys, I really thought one of them was going to win. There was part of me that was really worried but after winning best photo so many times, that gave me faith.
Q. Gina, RealityWanted: Did the social media factor affect you in the competition at all?
A. Jourdan: Yeah, definitely! I think social media had a huge part to play in the competition. It seemed like that score would determine whether or not someone went home. The people out in the world, looking at the pictures, are who matters because that's who we're selling to. I think personality definitely has a little bit to do with it. I think mostly on set is what people were looking at and how we worked together when we were partnered up and how we worked with photographers.
Q. Gina, RealityWanted: You seemed like a frontrunner throughout much of the season. Did you feel that pressure at all?
A. Jourdan: Oh yes! I felt so much pressure being on top all the time because like Tyra says, "Once you're on top, you have further to fall," and I knew I couldn't make any mistakes, put out a bad photo, or do poorly in a challenge. Like we saw with Mike, he won best photo and was sent home the very next week. I felt like I had a lot more stress than the other contestants. I had to really impress every week.
Q. Gina, RealityWanted: When you weren't chosen to walk in a Fashion Week show, were you surprised?
A. Jourdan: Yes, I would have to say that was the toughest thing for me. I had a really good runway walk that I had practiced, and then I couldn't book a runway show. As we saw on that episode, I was in tears and had a slight panic attack. I was like, "This cannot send me home!" That moment was very scary for me and I remember being at panel and being so, so scared.
Q. Gina, RealityWanted: When did you feel confidently you had won, as you were standing there waiting to hear the results or not until Tyra said your name?
A. Jourdan: It wasn't until she said it that I really believed that I had done it. Like I said, I'm just thinking that they were going to choose a boy. I'm very thankful that they chose based off of who was going to do the best in the industry, who is going to make the most money, and be the most successful with the prizes that were offered.
(Image courtesy of The CW)

Follow Gina @ginascarpa