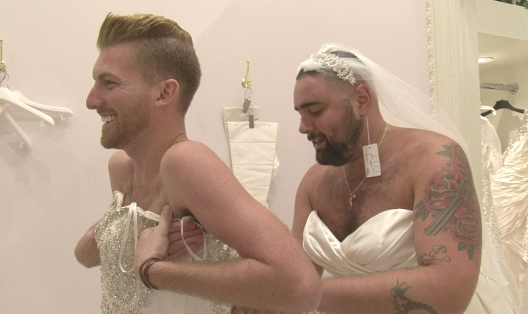 by Jessica Blackwell
Now that the ladies are back at the shore, they had to go back to their old stomping grounds. If you remember, the theme of their original show was - well, hookups booze and partying lol! But in between all that, the cast actually had jobs at a t-shirt shop owned by a guy named Danny. They returned to the store to find that not much had changed in the shop, but both Danny and Snooki had become parents. Speaking of parenting, there are some pretty disturbing things going on in that arena! 
Little Lorenzo, (who took his first steps behind Jioni's back,btw) somehow gave his parents the impression that he wanted to hear the gawd awful story about how they met.  Snooki and Jioni couldn't agree on the version of the story, when trying to tell it to the poor little bambino. They both agreed that it was at a club, and that they made out moments after meeting, but Jioni insisted that Snooki made out with someone else that night and she denies it.  Such a lovely story to tell your son - I hope they learn to edit it as he gets older. 
To continue their relationship therapy, Jenni and Roger each had an individual session with the counselor. Their problems boil down to the issues that most American couples have - he wants more sex and she wants more affection. Although they aren't ready to marry, they started prepping for their life together, even looking into adopting children...
The ladies decided to go look for wedding dresses.  It makes sense for Snooki to be shopping for her dress, because she's actually planning her wedding, but Jenni..not so much.  Anyway, after a scare about their bronzer and spray tan leaking onto the dresses, they started trying them on.  The gay Joeys joined them to give their opinion, and even tried on some dresses. It wasn't your typical experience trying on dresses, but it sure was hilarious! Snooki made sure all the basics were covered, like how to hook up in a big poofy gown and how to pee.  Even though Jenni and Roger agreed their wedding wouldn't be happening any time soon, Jenni left the store wanting to get married - and soon. 
Next week, Jenni and Roger look further into adopting and Snooki and Jioni start building a house. Stay tuned! 
Snooki and JWoww airs Tuesdays at 10/9c on MTV. 
(Image Courtesy of MTV)