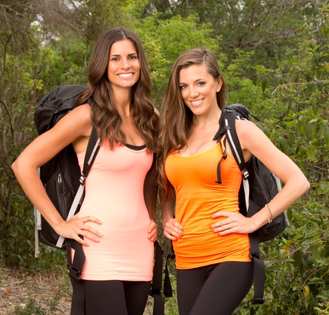 by Gina Scarpa
Baseball wives and close friends Nicky Getz and Kim DeJesus ran The Amazing Race this season appreciating every moment they had in the competition. They overcame fears and obstacles in their path, even escaping elimination twice. When they arrived last at the pit stop in Abu Dhabi though, it became the final time they'd come face to face with Phil Keoghan. We chatted with the pair this week about their Amazing Race experience and wanting to leave on a positive note.
Q. Gina, RealityWanted: Which one of you had the idea to try out for The Amazing Race?
A. Nicky: Actually, someone reached out from the show and I was actually with Kim at the time. I asked her if she would be interested and she said, "Definitely!" We thought it would be an amazing opportunity.
Q. Gina, RealityWanted: It seemed like you might form a bond with Tim and Marie, given that he played baseball, but she certainly made it tough on you guys. What did you make of Marie?
A. Nicky: I think that both of us were a little bit scared of her. She's one of those people with no filter. What she thinks is what she says, and we kind of respect that. Watching the show, she's pretty entertaining.
Q. Gina, RealityWanted: Which teams were you close to and working with throughout the race?
A. Nicky: We bonded right away with the football players so it was definitely an easy choice for us to work with them, and I think they felt the same way. After they got eliminated, we really liked Oklahoma and shared information and then they got eliminated! The Oklahoma guys were really nice.
Q. Gina, RealityWanted: You faced some fears during your time in the competition. How did you overcome them?
A. Kim: I was like a total baby when it came to heights or anything! I get really scared about situations but Nicky really encouraged me to get through those times.
A. Nicky: I knew she had these fears going in but she said, "All I really need is positive reinforcement" I started doing it and was like, "Wow, this is really all she needs!"
A. Kim: A big hug and a lot of affirmations go a long way with me!
Q. Gina, RealityWanted: You both seemed to have such a positive attitude and really appreciate everything you encountered in each leg.
A. Kim: Totally! There were a lot of times, like in the mosque, we were so enamored by the beauty that we forget we're on a race. It's so awesome to meet people from different cultures and you wanna stop and chat with them but you can't!
Q. Gina, RealityWanted: Are there hard feelings towards Tim and Marie for U-Turning you?
A. Nicky: Nah. The thing is that, a lot of times, you don't know what place your'e in. You have to U-Turn someone and it's part of the game. I wish they hadn't mentioned the airport situation. They didn't have any right to be mad at us.
Q. Gina, RealityWanted: Like Phil said, you didn't cry at the mat when he told you that you were eliminated. What were you feeling?
A. Nicky: I think we knew we were done unless some big thing happened. I think what really got the most was just when I talk about the experience, it's such an overwhelming thing! I did get emotional a lot but at the end, we knew we were going home and we went out on a positive note!

The Amazing Race airs Sundays at 8/7c on CBS.
(Image courtesy of CBS)

Follow Gina @ginascarpa