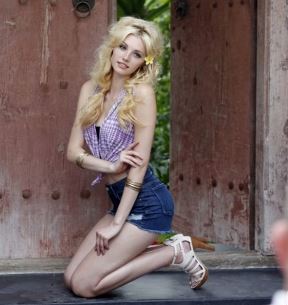 by Thea Napolitano
The time has finally come on America's Next Top Model! The three finalists are stepping up their game fiercer than ever and the competition has set in. With only three standing strong, Jourdan, Cory, and Marvin had photo shoot after photo shoot but that didn't stop them from shining!

Just when the models were starting to become exhausted, a surprise awaited them, which was a rally of fans that supported them. In the last episode, the three finalists were assigned their own individual team and color: Jourdan being "Smize Sunrise", Marvin "Boosh Blue" and Cory "Fierce Fuchsia". Past models that were eliminated were able to come back and choose who they wanted to cheer on and unfortunately for Jourdan, it was a tough day being that she had only ONE supporter in Chris, somebody she didn't even care for in the first place. Compared to the other two finalists, she felt discouraged.

The first photo shoot was for Guess and the pressure was on since that campaign that is on the line for the winner of the competition. Cory felt extremely out of his element the whole time because of how masculine he needs to be. Even though it's been hard for him to show masculinity, it's definitely in him and he has shown that through his photos. After that, it was time for the NYLON shoot, which is another important factor in the competition, since the winner will receive a spread in the magazine.
Once the models were getting ready for the final runway walk they needed to do a fashion video. The fashion video was about a love triangle. Jourdan played the girlfriend while Cory played the aggressive and abusive boyfriend and Marvin played the gentle and soft other man. Things got hot and heavy when Cory had to make out with Jourdan! He wasn't very happy about the situation but he sucked it up and took one for the team! Girls aren't for him but you could have fooled me.

Minutes before the models hit the runway the judges came in to tell some bad news and that was one more elimination before they make their final walk. You'll have to wait and see what two models make it to the final stomping ground in part two! Whose team are you on - Smize Sunrise, Boosh Blue or Fierce Fuchsia?
Don't miss the finale of America's Next Top Model, Friday at 9/8c on The CW.

(Image courtesy of The CW)

Follow Thea @TNapoli_Tano