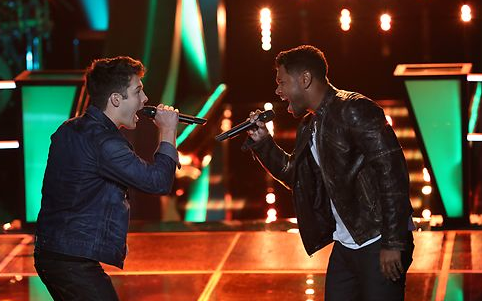 by Jessica Blackwell
The battle rounds continued as the coaches put pressure on the contestants to produce their best performances. Here are the best performances of the night:
Josh Logan vs. Michael Lynch
Christina was really impressed with the two of these guys during the blinds, but in rehearsals for their battle round, she found herself getting disappointed. She gave them Maroon Five's "Harder to Breathe", and this song was a challenge for two reasons. First, because the song is very wordy and difficult to perform, and secondly because Adam wrote the song and he's one of the judges! Despite the challenge, the guys stepped up to the plate and made Christina (and Adam) proud. Even though Michael and Christina had a latin music connection in the blinds, she felt Josh was the winner of the battle and chose him to move on with her team. 
James Irwin vs. Matt Cermanski 
Continuing with tonight's tradition of putting tremendous pressure on the contestants, Adam gave these guys a song written by their vocal advisor, Ryan Tedder, to perform. When the guys hit the stage, they performed an amazing version of "Counting Stars". I think this was one of the best battles of the season, so far. Both guys had major control, and were perfectly on pitch. Facing a really hard challenge of his own, Adam had to choose between them, and he picked James. 
Destinee Quinn vs. Lina Gaudenzi
During their rehearsals, Christina showed these two ladies how it's done! She sang their song choice "I'm Not Ready to Make Nice" in such a powerful way that they had no choice but to raise the bar!  They left it all on the dance floor, matching the passion Christina showed them. I think the Dixie Chicks would be proud, and Christina sure was! After her standing ovation, Christina had to make a hard decision and choose between these two powerhouses. Favoring the way she connected with the song, Christina chose Destinee as the winner. Thankfully, Adam jumped in and stole Lina, because she definitely deserves to stay in the competition. 
James Dolpert vs. Will Champlin 
Performing "Radioactive," this pair was the last battle of the night. Their styles are so different, but they both managed to do a good job with this song. Blake and Cee-lo felt that James was the winnner simply because he looks like a nerd and it's shocking when he opens his mouth and reveals that soulful voice. Adam agreed, and he chose to move on with James. Will was ready to be stolen, and as he was walking off the stage, Christina pushed her button and saved him! 
Tomorrow is the final night of battles, and the previews boast at least one great performance. Stay tuned! 
The Voice airs Mondays and Tuesdays at 8pm EST on NBC. 
(Image Courtesy of NBC)