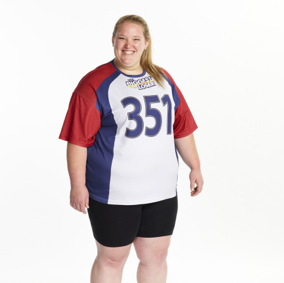 by Gina Scarpa
The minute Holly Mangold stepped onto The Biggest Loser ranch, trainer Bob Harper knew he wanted her on his team. After all, the Olympic weightlifter undoubtedly had a great work ethic in the gym and he felt they both could learn from each other. As we head into week 2 of the competition, we talked to Holley about what brought her to the show, working with Bob, and what she learned from watching herself on tv.
Q. Gina, RealityWanted: How did you end up on The Biggest Loser this season? Did you have any reservations going in?
A. Holley: I definitely had reservations going into it. The Biggest Loser called me out of nowhere and when they first called, I definitely was like, "Wow, I must be really fat if they're calling me." Then I realized it's a huge opportunity and I had to pull out of two competitions but you have to make sacrifices.
Q. Gina, RealityWanted: What were some of the things you were worried about, coming onto the ranch?
A. Holley: I know that they drastically lose weight and I was worried about that. I was worried about losing muscle. In the end, I thought that this is something different and unique and I needed to go for it.
Q. Gina, RealityWanted: The cast this season really seems great. How did you feel about them when you first met everyone?
A. Holley: I fell in love instantly with everyone. I had never really watched the show before but this cast has to be one of the greatest. I can say that honestly! We're just one big family.
Q. Gina, RealityWanted: Bob gravitated towards you right away. Were you hoping to be on his team?
A. Holley: Yeah, I was hoping that he would like me. I was definitely hoping he would pick me because I knew he would put weightlifting into my workouts.
Q. Gina, RealityWanted: Did the trainer save make you feel better or added pressure?
A. Holley: I think personally, for me, it made me feel better. My first week mentality was, "Whoever is going home this week is getting screwed." It's incredibly hard. Having the trainer save is amazing and takes some of that pressure off! For some people, it put more pressure on!
Q. Gina, RealityWanted: How did working out on the ranch compare to your weightlifting workouts back home?
A. Holley: I can't really compare The Biggest Loser to the workouts that I do because they're unique. Coming into the show, I was prepared for really hard workouts but I thought, "Okay, it's a bunch of large people. They're going to give us a break." I was wrong. You jumped on the treadmill day one and it was like, "Alright, let's go!"
Q. Gina, RealityWanted: What's one of the biggest things you've incorporated into your back home because of The Biggest Loser?
A. Holley: Before The Biggest Loser, I was a big organic, free range person. I would take it if it was there but I wasn't crazy about it. Now, if it's not grass fed, I'm not eating it. I wanna make sure that everything is balanced and it's fuel.
Q. Gina, RealityWanted: What's the reaction of your friends and family to seeing you on the show?
A. Holly: Everybody's been really supportive and excited about the show. My reaction to seeing it was that I have this terrible look on my face 24/7. I didn't realize that I have this glazed over, angry face. Now, I see why people say they're intimidated when they meet me!

The Biggest Loser airs Tuesdays at 8/7c on NBC.
(Image courtesy of NBC)

Follow Gina @ginascarpa