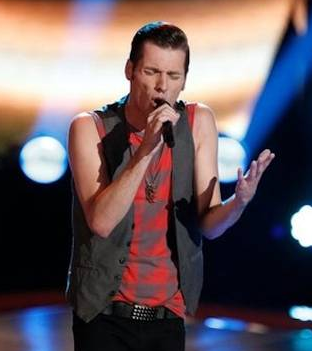 by Gina Scarpa
Nic Hawk's unique choice for a blind audition song won over Adam Levine this season on The Voice. The coach pitted Nic against team member Grey for the battle round, where he ended up losing, but his disappointment was short-lived. In a surprising move, Blake Shelton jumped in to claim the singer for his own team. As we await the knockout rounds, we chatted with Nic about his unexpected journey in the competition.

Q. Gina, RealityWanted: What was your performance experience prior to trying out for The Voice?
A. Nic: Well, I had a job traveling and doing theater and I did that forever. It was a great experience but I always knew that I wanted to sing my own kind of music. Doing theater, you're put in a box of what you can and can't do. I wanted to step out and do this. That was my background... I taught dance, traveled and did theater, and I wanted to do this. I went to a random audition and this is what happened. It's so surreal!
Q. Gina, RealityWanted: Choosing the song "Hit 'Em Up Style" was definitely original and clearly, it worked in getting someone to turn. What made you decide to sing it?
A. Nic: That song fits my voice. I love singing that upbeat, R&B, swag music. I loved it when I was little and it's something that's kept with me through my life. I've never performed it, ever. I wanted to switch it up and do something different. People think they know what I'm gonna do but you never know what I'm gonna do.
Q. Gina, RealityWanted: How confident were you feeling going into the battle against Grey?
A. Nic: Are you kidding?! She's amazing and I was stressing out so hard. You have something to offer or else you wouldn't be here. I looked at it like that. She's an amazing vocalist but I was going to have to find another way to get noticed. I wasn't just gonna stand there and let someone sing over me because she's got a great voice. It's comparing apples to oranges. I took it for what it was and wanted to go in and have fun. She's one of my really, really good friends. Once we knew we were pitted against each other, we were like, "We're both making it through, we're not even going to say goodbye!"
Q. Gina, RealityWanted: You looked surprised that Blake used one of his steals on you. What went through your mind when he pushed his button?
A. Nic: I was like, "What the hell?" He's so polar opposite from what I do but then I think about it and he's a performer. He's a good singer but you know his performance more than you know about his singing. He's that guy that you wanna be around and you wanna buy his CD. I'm very happy but I was super surprised. He sings country and I'm not that but I love to learn from anybody. It's all a learning experience and I can't believe I'm still here.
Q. Gina, RealityWanted: What's going to be your strategy going into the knockouts?
A. Nic: I think I have a song that people are going to be like... at first glance, you're gonna be like, "What the hell?" I'm a risk taker, I don't take the easy route. I really had a great time and that's what it's about for me. If you have fun doing it, it's gonna translate and people are going to be intrigued by that. I think that's what we're missing nowadays is performers, Freddie Mercury style. You guys are finding everything out when I'm finding everything out.
Q. Gina, RealityWanted: What style of music would you most like to record?
A. Nic: Honestly, my main inspirations are Jessie J, Amy Winehouse, Anthony Hamilton... I love soul music I've realized through time that you can change anything into the style you like to sing as long as it comes from the heart. I would love to sing any song on the show but stylistically in the future, I'd love to sing R&B/pop. I want to sing different tones that you're not used to hearing. It's just cool to be considered with all these other people. It's like, are you serious?
The Voice airs Mondays and Tuesdays on NBC.
(Image courtesy of NBC)

Follow Gina @ginascarpa