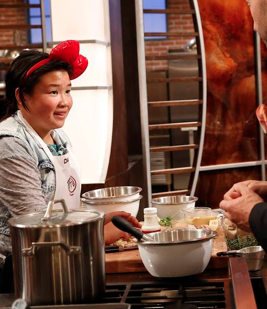 by Gina Scarpa
We're three weeks into the MasterChef Junior competition and these kids have yet to disappoint! They think on their feet during challenges, created dishes that look delicious, and impressively hold it together when Gordom Ramsay, Joe Bastianich, and Graham Eliott give feedback and eliminate their fellow competitors and friends. Among the Top 10 is 12 year old Dara Yu from California, who we chatted with today about the experience so far competing on MasterChef Junior.
Q. Gina, RealityWanted: You cook better than most adults, never mind kids your age. When did you realize that you had something special when it came to cooking?
A. Dara: Well I realized that I had something special or I could actually cook probably when I was around 7 or 8. That's when I started cooking more with my mom and by myself. My mom has cooked for a long time so I was always in the kitchen with my grandma. I wasn't always cooking, I was a sampler! I think my mom and my grandma and my stepdad realized I could cook when I made these dishes that were restaurant quality. I'd figure out components that would taste amazing together. That's when they realized, when I was 7 or 8.
Q. Gina, RealityWanted: When you made it into the competition, what was it like to be surrounded by talented chefs that were around your age?
A. Dara: I didn't really know what to expect from my other competitors until the first challenge. Seeing the talent, even from 9 year old Sarah making a chocolate lava cake, was amazing! I understand because I'm part of it but it's just so amazing that kids can cook this restaurant quality food.
Q. Gina, RealityWanted: The judges definitely interact with the contestants this season than those on the adult MasterChef. How did you like being around Gordon, Joe, and Graham?
A. Dara: It was actually really fun! Gordon Ramsay is very, very nice. He treats us like his own kids and he's probably my favorite judge. Also, Graham and Joe are amazing. Graham, you just can't not like him. He's so likeable! I didn't get to know Joe that well but from what I did, he's very nice too and gives us constructive criticism to make us better.
Q. Gina, RealityWanted: Have you practiced cooking with ingredients you weren't prepared for or were the Mystery Box challenges the first time you did that?
A. Dara: One of my best qualities in the kitchen, I guess, is that I'm very creative. A lot of times when I'm in the kitchen at my house, I'll think on the spot and use what I have in the fridge. The Mystery Box challenges were definitely harder for me because I didn't know what was going to be in there. In the sense of being creative, that's what I'm good at.
Q. Gina, RealityWanted: You haven't won a challenge yet, but you also haven't bee in the bottom. How stressful is the judging aspect for you?
A. Dara: During the challenge, I kind of got into this zone and I didn't think about the cameras or the judges. I just focused on the food. When they call you up, that's when the nerves hit you. Once they taste your food, if they give you positive feedback, you feel better.
Q. Gina, RealityWanted: Have you thought what you want to do with your career when you get older?
A. Dara: I'm still young. I definitely want to study in restaurants and learn as much as I can. I did that this summer and I also want to teach kids how to cook. I want to do a show, cooking lessons, and I want to let people know that kids can cook! I really want to share my passion.
Q. Gina, RealityWanted: What do you want other kids to know about you or from watching you on MasterChef Junior?
A. Dara: On Twitter and Facebook and stuff, I've seen that MasterChef has already influenced kids to cook with their parents. I don't want kids to stop going outside and playing but instead of watching tv or video games, make yourself a meal or make your family a meal.
Q. Gina, RealityWanted: We don't know what happens to you yet in the competition, but did you leave with lots of friends?
A. Dara: I would not call it friendship, I would call it family! I have 12 new moms and 12 new sisters and brothers. They're just amazing and I talk to them almost every day!

MasterChef Junior airs Fridays at 8/7c on FOX.
(Image courtesy of FOX)

Follow Gina @ginascarpa