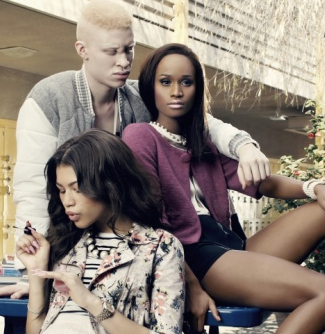 by Thea Napolitano
There was no question that Jeremy made a good impression on ANTM fans this season and his high social media score got him back into the house for a second chance in the competition! This week, the models were tested on how well they follow directions and I mean ANY directions. Their challenge was designed to see how committed, professional, and believable they could be while shooting a bottled water commercial. The "pretend" director (a comedian by the name of Reggie Watts) directed them to gallop into an enchanted forest, kiss a unicorn, and take a steam shower! The joke was on them but some did extremely well, like Jourdan who was the challenge winner.

The models bumped major heads on this episode leading to an all out girls against boys mentality! It all started when Chris decided to leave notes on the counter calling out some of the girls on their dirty dishes. Renee flipped out, saying some pretty harsh things to Chris and bringing things to a personal level with her low blows. Jourdan had to put her two cents in as well which caused Jeremy to step in and stick up for Chris. She ended up apologizing but Renee is still fired up about what was said and has to intentions to admit that she was wrong.
After all the drama came the "Flawbulous" photo shoot held at a high school. Instead of showing off your best assets and features, the models showed off certain flaws, which as Tyra would say "Flawsome". Some flaws were Jordan's unibrow, gap tooth Chris, chicken leg Don, and moley Marvin. They all made the flaws look fabulous except for Alexandra, who didn't catch the judges' eyes. She didn't see her elimination coming due to her severe dizziness that made her leave the stage to lie down but that wasn't the reason she was sent home. Her picture just wasn't strong enough and the judges didn't see high fashion in the photo. She got a second chance but unfortunately it didn't last as long as she would have liked.

Nina came out on top for the best photo this week, she rocked her enormous forehead. It's down to eight contestants and they're all headed to BALI!

Americas Next Top Model airs Fridays at 9/8c on The CW
(Image courtesy of The CW)
Follow Thea @TNapoli_Tano