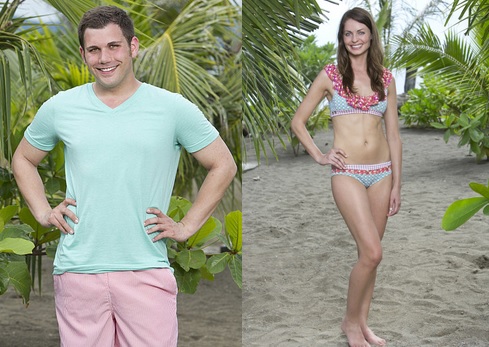 by Gina Scarpa
Just as we were about to get to the battle on Redemption Island this week on Survivor, one player decided he had had enough of the game. Colton broke down in front of both tribes, saying he needed to leave the game, and Jeff Probst expressed his regret in bringing him back for a second time. Rachel ended up losing to Candice and Marissa minutes later, and was eliminated from the game. We talked to the pair after their exits from Survivor about the twists and turns of Blood Vs. Water.
Q. Gina, RealityWanted: Playing against your family members this season must have been quite a shock and it changed the way the game was played. Colton, was that a factor in your decision to quit?
A. Colton: Why I did what I did was for that reason. The people that are blood relatives, they are playing for themselves, where as the couples are playing for each other. I felt like, with my back against the wall, I had to make a decision on how I could win this game without winning this game. Do you know what I mean? My best bet was sitting across from me in a flannel shirt. I don't even want to put him in the position of having to sacrifice himself.
Q. Gina, RealityWanted: Both Tyson and Caleb are playing very good games right now. What did you think of their early strategies?
A. Rachel: I think they're doing a really good job. Tyson doesn't have to do that much, they've been winning every challenge. Caleb is so great because he's likeable and he's playing it cool.
A. Colton: I think you're gonna see very different sides of those two guys. I think they'll be the ones to watch and I'm not just saying that. Their hearts just left the game and they're out for blood. Tyson hasn't had to play yet and Caleb has been hanging back.
Q. Gina, RealityWanted: You each had your own set of problems on your tribe. Colton, you were with people who didn't want to strategize with you and Rachel, you were on a tribe where Brad made all the decisions. Can you talk a little bit about what it was like to be at those camps?
A. Colton: I'll sum it up for you. She was in a frat house and I was stuck in a nursing home!
A. Rachel: That's about what it is, I think.
Q. Gina, RealityWanted: I totally get why John got voted out. Those two idol clues just couldn't be overlooked, but isn't there something to be said for getting Brad out instead?
A. Rachel: For me, honestly, it was so early in the game. You can't really think to do big moves in the game because you're going to become a target. Everybody was just under Brad's spell but for the guys, he's a great bully to hide behind. They're still playing the game. They just haven't had their chance yet.
Q. Gina, RealityWanted: Colton, Jeff was pretty harsh on you. How did you handle his comments, both when you were sitting there and then after the fact when you watched it play out on tv?
A. Colton: When I was sitting there, it was going in one ear and out the other. It was like, shut the hell up, I just wanted to leave. I think he was pissed because he felt the frustration that America feels for some reason. I think he views himself as the voice and he was taking it all out on me. Like, "This is what you're going to give us? We're not even going to see your torch snuffed?" I also wouldn't answer his questions without blowing what I was trying to accomplish which was taking the target off Caleb.
Q. Gina, RealityWanted: Now that you've had time to reflect on it, what did you think of the format this season and playing against your loved ones?
A. Rachel: I think it's been a challenge. It's the first time Survivor has ever put loved ones in the game and there's really an element of trust. You have that loved one that you can actually relay on. Colton and I didn't get far enough to play with our loved ones though...
A. Colton: Which is the only reason I even got on the plane!
Q. Gina, RealityWanted: Obviously, you'll be rooting for Tyson and Caleb, respectively, but who else would you like to see go far?
A. Colton: Well, I love Monica. Monica is the reason I even stayed 7 days.
A. Rachel: Yeah, Monica maybe... I don't know. I'm just rooting for Tyson.

Survivor: Blood Vs. Water airs Wednesdays at 8/7c on CBS.
(Image courtesy of CBS)

Follow Gina @ginascarpa