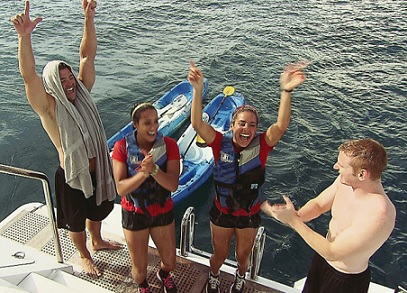 by Gina Scarpa
Heading into last night's finale of The Challenge: Rivals 2, Jemmy and Camila were already eliminated at the first puzzle while Jordan and Marlon were in a heated boat race with Johnny and Frank to make it to the checkpoint. The rookies from Portland were so eager to beat their veteran counterparts that they tipped their boat over in their haste. Johnny and Frank ended up easily making it to host TJ Lavin and moved on to Day 2 with CT, Wes, Cara Maria, Cooke, Emily, and Paula.
The first day took place on Dream Island, while Day 2 took place on Nightmare Island. Uh, can we all go back to Day 1??? The day kicks off with another swim, followed by a geometry puzzle using the Pythagorean Theorem, where we learned that CT has fat fingers (his words, not mine) and Frank has forgotten how to do basic math like multiplication. Next up was a disgusting food challenge, where the teams were asked to consume worms, crickets, dried squid, and some liquid I never want to see again. There was a LOT of puking, to say the least.
CT and Wes continued their lead heading into the fourth checkpoint, while Paula and Emily pulled ahead of Cooke and Cara, who struggled keeping their "food" down. Teams had to move 20 heavy bodybags across a playing field, then move them to dig up a treasure chest. Was anyone else creeped out by the pile of bags?
The last obstacle was to crawl through a hole under the sand, then reach through a pile of bamboo to retrieve the final idol needed to claim the $125,000 check. Both CT and Wes, and Paula and Emily, made it to TJ first. After TEN YEARS, CT finally gets the win he deserves and it seems he and Wes have finally buried the hatch. Money will do that to you! Paula and Emily, the best female team of the season, also take home a much deserved win.
That's it, Challenge fans. Were you happy with the finish line results?

(Image courtesy of MTV)

Follow Gina @ginascarpa