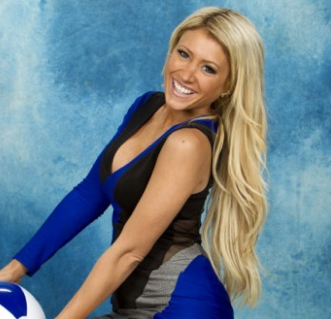 by Gina Scarpa
When it came to mincing words, Big Brother houseguest Gina Marie Zimmerman didn't know the meaning. Her fellow players may have been too afraid to make power moves or say how they really felt but they were non-issues for the tough talking New Yorker. However, she was widely viewed as a fun person to hang out with and showed loyalty throughout the season to players like Aaryn and Andy. She took home $50,000 as the runner-up Wednesday night and we chatted with her afterwards about alliances, showmances, and controversy in the Big Brother house.
Q. Gina, RealityWanted: Do you feel like people underestimated you this season?
A. Gina Marie: You know what? Every competition I did, I said I wasn't competing with the other houseguests. I was competing with myself. I always tried my best, even if it came to stitches or broken bones. I was the second oldest in the house. I have a good dance background, a lot of energy. I'm a cool person, I'm down to earth, I have a good personality, I got along with the girls and I'm a guy's girl. I think I did well.
Q. Gina, RealityWanted: You said on the finale that Nick leaving the house was the biggest obstacle you had to overcome. Do you feel like you let him affect your game at all?
A. Gina Marie: It made my game even stronger, meaning I told everybody, "Listen, give me a couple days. Let me get over it." You've been with someone over 20 days for 24 hours. We had a great connection. It was really shocking that he left. I really thought we had the votes. I felt like my heart had just been ripped out. I yelled, I carried on, and I think that's why I kept things around that reminded me of him. I knew he was rooting for me back home and I knew if I kept those things around, it would keep me strong and I could do this.
Q. Gina, RealityWanted: Being close with Aaryn, Kaitlin, and Jeremy early on could have easily cost you the game. When did you realize that your group was in trouble?
A. Gina Marie: I said it before and I'll say it again. I went down with the ship. It's kind of funny. I started to make a bond with the really good competitive people and I didn't really wanna make an alliance at first because I didn't know who I could trust or what their capabilities were. They were 10 years younger than me, which is hilarious. People I hang out with back home are Helen's age, which is why we got along. I got along with everybody but you know, after the first four weeks, I was like, "My ship has sank!" The only person I had left was Aaryn. When were on the block, she went behind my back a little bit. You do things for the game and you gotta protect yourself. She wanted to stay as much as I wanted to stay.
Q. Gina, RealityWanted: Why do you think you were the only one who had the guts to put up Amanda and McCrae? Why were people so afraid of her?
A. Gina Marie: You know what? I don't mean to say this as a bad way but no one had the balls to put them up. That's how I say it in New York! I knew a lot of people wanted to get them out. They didn't have the power, they were too scared, and it also wasn't the right time. I knew it was the time to put them up. If I had a good team to back me up, I knew I had the votes. That's why everything went as planned. I was like, "I'm from New York, I'm never scared!" I wanted to split them up. I think I made the biggest game move.
Q. Gina, RealityWanted: As you sat next to Andy in the finale, did you feel there was anything you could have said differently or better to swing the jury in your favor?
A. Gina Marie: A lot of my friends went in the beginning, and he had more jury votes. I wish I said things more clearer and more thought out. When you're up there, you don't know what they're gonna say, you don't know what to expect. Everyone throws questions at you and you just say what comes to your mind. If we prepared for it, I would've had an awesome speech but I gotta give it to Andy. He does public speaking for a living and sometimes my mouth thinks faster than my brain.
Q. Gina, RealityWanted: If you had your pick of anybody to sit next to for the final two, who would it be?
A. Gina Marie: Ooh, lemme see! You know what? It definitely wouldn't be Nick because I don't wanna compete with him. Aaryn was a great competitor and a great person. I could see her at the end. Andy played hard so I probably would just stick with Andy. I knew I couldn't beat him but I kept my word.
Q. Gina, RealityWanted: There's been a lot of controversy this season and you were in the middle of it. What do you want to say about your part in it?
A. Gina Marie: It came outta my mouth, and I do apologize very sincerely if I offended anyone in any way. I am a good person, I have a big heart, I have a big family. I try to think positive and hopefully, there's big things in the future for Gina Marie. I have a big personality, I'm fun loving, and hopefully there's a good job for me. I can just be the best Gina Marie I can be.

(Image courtesy of CBS)
Follow Gina @ginascarpa