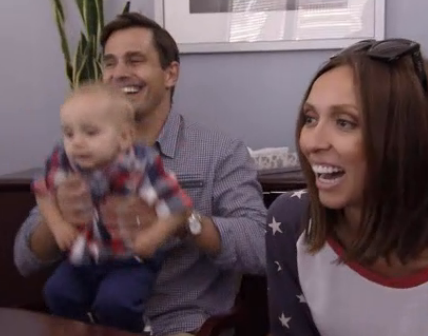 by Jessica Blackwell
The Rancics returned to L.A with the thought of another baby on their brain. When they left Mexico, Bill didn't seem too convinced about having another child, but Giuliana persuaded him to at least check into things so they can weigh their options. 
Before they could even consider getting started adding another baby to their bunch, they had a couple of things to cross off their to do list. First, they had to make sure that Giuliana was healthy. Since she's a cancer survivor, she has to get frequent check ups to ensure she remains healthy. Next, they had to find out if the surrogate they used to have Duke, Delphine, would even want to have another baby for them. 
Giuliana has many great moments, but when she performed a song that she wrote (terribly) for Bill, it wasn't her finest hour.  She sounded like a breathy, out of it Celine Dion lol. After she assaulted him with the terrible lyrics, Giuliana presented Bill with a copy of the song on CD as a belated father's day present. After all he did for her on her first mother's day, I think she has some major making up to do. Alternately,  Giuliana was the keynote speaker at the Bakersfield Women's Business conference and she actually gave a good performance there. Her speech was all about her struggles with cancer and the road that led to baby Duke - very inspirational and uplifting. Thinking about the long road to happiness she had made her even more anxious about wanting to add to their family. 
Understandably, Giuliana was nervous about the results of her check-up, but everything turned out to be fine. Since they got the green light from her doctor, they headed to Denver to get Duke's 1 year check up done, consult their fertility specialist and ask Delphine if she would become a surrogate again. 
When they got to Delphine's house, they exchanged the polite "How are you" and "looks how big baby duke got!" and then Giuliana went in for the kill.  She flat out asked her if she would be willing to carry another Rancic baby. After the conversation dragged on and on for a bit, of course the episode ended and now we have to wait until next week to find out if she said yes! Wahh!! Stay tuned! 
Giuliana & Bill airs Tuesdays at 8/9c on Style. 
(Image courtesy of the Style Network)