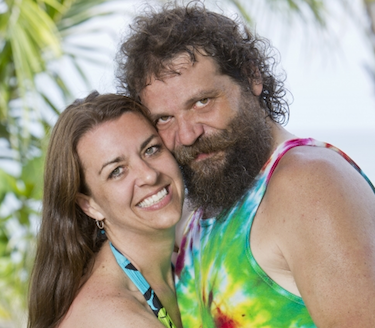 by Gina Scarpa
The game of Survivor lets players experience the highest of highs and lowest of lows and this season's crop of competitors got to feel both within 24 hours of one another. Returning players bring their loved ones to compete alongside them and get to spend one night with them alone before the game actually gets underway. The next morning, the players were in for a rude awakening when they met up with Jeff Probst.

Jeff immediately lets everyone know that they're going to be competing against each other, not with each other. Half the players are actually excited about it! There's a lot of competitiveness happening on this beach. Then, the bombshells keep coming. Two players are voted out right away and it's Rupert's wife Laura and Candice. Then, Jeff offers the loved one left in the game the chance to switch places with the one voted out. Rupert doesn't even flinch and sends Laura back in the game. Redemption Island is also in play, so Candice and Rupert are headed there to await their first competitor.
Brad didn't make a great first impression when he admitted he'd think about throwing challenges so his wife could benefit. At the Tadhana camp, he also aggressively forms an alliance with the other men in his tribe. He may need to dial it back a bit, but he does bond quickly with Vytas and Ciera when they start sharing their life stories.
Over at Galang, Colton works hard to change the perception that people have of him. As he shares the story of not being accepted, I'm not totally sold that it's not gameplay but time will tell.
It's pretty funny that Tina was upset that Rupert left the game because he's such a "hard worker around camp" because Redemption Island suggests otherwise. He basically refuses to do anything, leaving Candice to expound all her energy taking care of camp.
For their first challenge, players race through an obstacle course in the water, paddle a boat back full of puzzle pieces, then put that puzzle together. Can I just ask who in the world let Gervase do the obstacle course? Not only can't he swim, he doesn't even have the energy to make it through each obstacle. While Aras goes on lifeguard duty, Tadhana pulls ahead. Experience comes into play with the puzzle though and Galang comes back to win!
Hilariously, Gervase was the loudest one celebrating after his tribe won.  That suddenly put a target on his niece Marissa's back.  Tina's daughter Katie also has some negative attention on her after her poor puzzle performance.  At tribal, it's clear the newbies are having a tough time adjusting to life in the game.  John gets emotional about his decision to stay in the game, while Marissa admits that her uncle's rant may cause end of her game. Her fears came true and she was sent to Redemption Island to face Rupert and Candice.
Are you rooting for the veterans or their loved ones this season?

Survivor: Blood Vs. Water airs Wednesdays at 8/7c on CBS.
(Image courtesy of CBS)

Follow Gina @ginascarpa