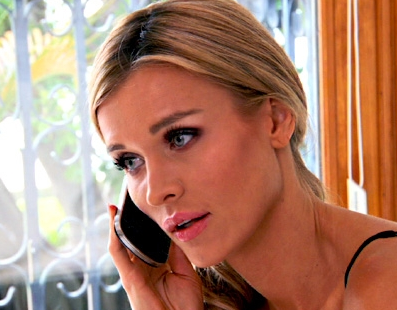 by Thea Napolitano

Lisa and Lenny should definitely win an award for Best Mediator Couple! On this week's episode of The Real Housewives of Miami, Lenny took it upon himself to bring the men back together on talking terms. Just like Lisa, Lenny to is caught in between feuded friendships. All three of the men met up courtesy of Lenny and BOOM! Just like that, everything was squashed. After Romain and Fredric talked their problems out, they both left on civil, handshaking terms. Now if only the ladies could do the same!

In the other room, Lisa was spending quality time with her mother in-law. They are both pretty distant and Marina makes that very clear during a family dinner. She expressed how Lisa never returns her phone calls which lead to Lenny telling his mother how rude she can be. Lisa feels Marina doesn't like her and it's been an ongoing issue for a while now. This time, though, Lisa took the initiative to spend more time with her during her week long stay.

Joanna has been overwhelmed with planning her wedding alone since her sister can't make it to fittings and tastings but luckily Lea was more than willing to help out and keep her company. Lea called up Lisa who was right in the middle of a dress fitting for Adriana's wedding to ask her if she wanted to make a girls trip to L.A. to help Joanna. Talk about perfect timing!

Lisa snuck away from the frenemies to take the phone call and was super excited to join Joanna and Lea in a girls trip. Sneaky, sneaky Lisa.. I wonder what the girls are going to say about that once they find out!

Lisa wasn't the only one who Lea called. Surprisingly she called Adriana too! This call wasn't an apology or another meeting to fix their problems but instead, it was strictly about their kids. Lea's son was having a birthday party and wanted to make sure Adriana's son was going to make it. Adriana and Lea aren't on speaking terms but their children are and even though the two housewives no longer have a friendship, their kids still do. Adriana appreciated the call but she arrived at the birthday party feeling uncomfortable and on edge.

Is this a small step of the two hashing things out? Nah, I don't think so.
The Real Housewives of Miami airs Mondays 9/8c on Bravo.
(Image courtesy of Bravo)
Follow Thea @TNapoli_Tano