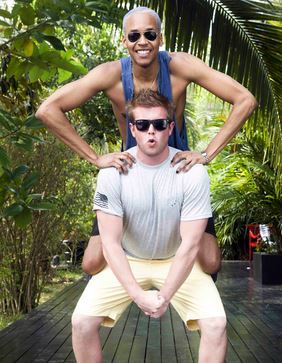 by Gina Scarpa
Last week on Rivals 2, it was the last chance for the guys to solidify their place in the finals.  After losing the challenge, Knight and Preston automatically were sent to The Jungle and faced off against Marlon and Jordan.  The rookies ended up defeating the Real World New Orleans vets, sending them home without any money.  We caught up with Preston today to talk about his rocky relationship with Knight, how the rookies made it to the end, and whether or not we'll see him again in another Challenge.
Q. Gina, RealityWanted: You and Knight have had your issues since your time together on The Real World. Was there ever a time that you felt like you two were close?
A. Preston: There was a time, right after we left The Real World house in 2010. At that time, we all were very much friends and then the calls would come. What I can say of those calls... they redefined the way Knight and I interact. No longer was it two bros but rather a man who's fallen and proven his ill worth. I think for both sides this rings particularly true.
Q. Gina, RealityWanted: It's obvious that Jemmye still lets Knight get to her. Is there any hope for those two as a couple?
A. Preston: You know, love is such a queer feat. I mean there's a reason the two of them can't stay away from each other. When Jem was last in NYC it was Knight she saw, not me. So...
Q. Gina, RealityWanted: Which teams were you the most closely aligned with through the season?
A. Preston: Well it depends from which perspective you're talking about. I guess I'll give you an example. Knight's perspective: You know CT and I are like dating. So you my balls.... Vice grip. Mine: It seems to me that our best choice to make is with Jordan and Marlon. In conjunction with Leroy and Ty, we might have a chance to make it to a final...no?
Q. Gina, RealityWanted: How did Jordan and Marlon, a rookie team, make it all the way to the finals without seeing an elimination round until last week?
A. Preston: Well I would say that Jordan's fine looks and Marlon's ultra smooth ways carried them fairly far. Lets be honest. In a game where athletic prowess and savor-faire are of pertinent advance, these men have them both.
Q. Gina, RealityWanted: Despite the fact that you and Knight don't get along, you did do well as a team and made it very far. Did it surprise you how far you made it?
A. Preston: Ha. "Worked well" is a term that's dry on my tongue, like a tannin. Am I surprised? No, I'm shocked!
Q. Gina, RealityWanted: Do you blame Knight for your loss in the Jungle?
A. Preston: No, how could I? I also never chimed in to help. I could have totally supported him more with a bit of instruction. I don't perform well under direct competitive pressure so I too failed.
Q. Gina, RealityWanted: If you two had run in the final, do you think you guys would've made it to the finish line?
A. Preston: My organs would have to fail before I gave up in a final. #IAMHEART
Q. Gina, RealityWanted: What are you up to now and do you have any desire to do another Challenge?
A. Preston: Well... mixed bag. I've been working for a creative agency in SoHo. It's fun but its my 20s and Challenges are fun. Hell, you live once. So another Challenge... sure if they'd have me, I'd be honored. Not everyone gets flown to exotic locations, have meals provided, and get to pull the stunts we do.

The Challenge: Rivals 2 airs Wednesdays at 10/9c on MTV.
(Image courtesy of MTV)

Follow Gina @ginascarpa