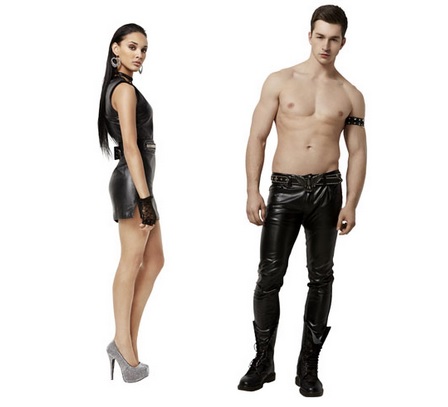 by Gina Scarpa and Thea Napolitano

Last week on America's Next Top Model, the guys and girls created a campaign for Emerson's women's clothing and posed in a photo shoot at Smashbox studios. The judges felt that both Kanani and Jeremy had the weakest photos and sent them packing in a double elimination. We chatted with the pair about favorite photo shoots, competing with Jourdan, how their lives have changed, and more in an exclusive interview about their time on ANTM.

Q. Gina, RealityWanted: What was your main motivation for auditioning for Top Model?
A. Jeremy: I guess it'd have to be my mom. She's a fan of the show so if it wasn't for her watching at the time and saying I should give it a try, I probably never would have.

Q. Gina, RealityWanted: Was there anyone that you viewed at your biggest competition?
A. Kanani: I felt like once they made Jourdan a blonde, she became competition. Everyone loves blondes.

Q. Gina, RealityWanted: Are you surprised you made it as far as you did being that you are a young new model?
A. Jeremy: I am! Going in I was scared I wasn't going to do very well since I had no background experience in modeling.

Q. Gina, RealityWanted: Jeremy, if you hadn't let Jourdan get to you, do you think you would have done better on the Smashbox studio shoot?
A. Jeremy: She didn't get to me. I just wasn't strong enough for the judges. Watching the episode, I thought I had a better shot than the one they picked.

Q. Gina, RealityWanted: Kanani, speaking of Jourdan, are you glad she apologized for the phone time before you were sent home?
A. Kanani: Her apologizing didn't really matter to me because I still never talked to her but it made me dislike her a little less.

Q. Gina, RealityWanted: Which photo shoot was your favorite?
A. Jeremy: All the Bali ones, which they haven't shown on tv yet but when they do, you'll see why.

Q. Gina, RealityWanted: Which judge do you feel rooted for you the most?
A. Kanani: At first I thought it was Tyra, but in the end it was Kelly.

Q. Gina, RealityWanted: We saw that your elimination was pretty emotional, what was going through your mind once you realized you were going home?
A. Kanani: I can't believe I'm being sent home over Phil! He doesn't take anything serious.

Q. Gina, RealityWanted: Your social media score was not the highest. Do you have a plan to get it up there so you can come back?
A. Kanani: I just have to make sure I'm performing to the best of my ability and try harder than a everyone else.

Q. Gina, RealityWanted: How have things changed for you since you left the show?
A. Jeremy: More people are noticing me and what not! I'm just super excited to see where I go after the show ends.
America's Next Top Model airs Fridays at 8/7c on The CW.

(Image courtesy of The CW)
Follow Gina @ginascarpa