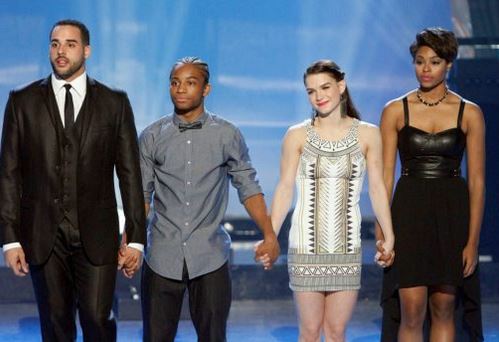 by Gina Scarpa
On last night's finale of So You Think You Can Dance, we were down to two couples who started the season together: Amy and Fik-Shun, and Aaron and Jasmine. They wouldn't find out which of them were America's Favorite Dancers until close to two hours later. Sitting on the panel for the finale were Nigel, Mary, Paula Abdul, Adam Shankman, and tWitch.

The night was filled with tons of dances we won't get to see on tour. From Jasmine and Comfort's hip hop to Robert and Tucker's contemporary, the all star routines aren't ones we'll see on the road but they were great to watch one last time. We also revisited some amazing group numbers, including the Top 20 opener from NappyTabs and the Top 10 guys choreographed by Christopher Scott.
One of the most bizarrely fabulous moments from the finale came courtesy of Nigel and Mary, who teamed up to dance to "Let's Get It On". The only thing better than Nigel getting caught up in his chair when trying to dance was Adam Shankman crashing the routine in the last few seconds.
Right before the results were revealed, the Top 20 and the all stars transported us back to the 60s with a beach themed routine set to "Rock Lobster". There were so many amazing performances happening, I had to keep rewinding so that I could see everyone!
Cat finally announces that the winners of So You Think You Can Dance are... Amy and Fik-Shun! Cue the tears! The truth is, I would've been happy no matter who won. This was my favorite Top 4 in the history of the show. Are you happy with the results or were you pulling for Aaron and Jasmine?

(Image courtesy of FOX)

Follow Gina @ginascarpa