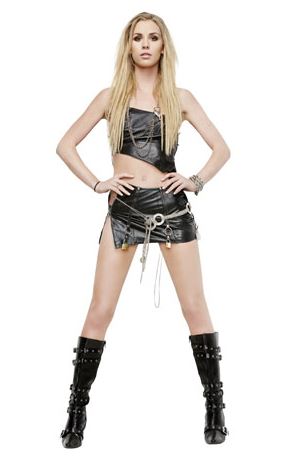 by Gina Scarpa and Thea Napolitano
On last week's America's Next Top Model, the guys and girls were put to the test when they were given a gender bending assignment for a fragrance commercial. Not surprisingly, Cory did very well in the shoot but quite surprisingly, his partner Alexandra did not. She has been quite popular with both the judges and fans on social media but her time in the competition was cut short after sub par scores. We chatted with Alexandra today about meeting Tyra for the first time, her makeover, and her elimination from Top Model.
Q. Gina, RealityWanted: What motivated you to audition for Americas Next Top Model?
A. Alexandra: I actually have watched ANTM since I was so young! I can remember being a little kid and I was way too young to audition. All growing up, my family said I would be so good on the show and even my friends would say it. I've always wanted to do it but actually being able to was such an incredible experience.
Q. Gina, RealityWanted: Having been a fan for such a long time, what was it like for you to actually make it and be in front of Tyra?
A. Alexandra: I think everyone at my first audition thought I was crazy. There was me and one other person from my audition in New York that made it. Our audition was one of the only ones that Tyra came to and I was freaking out! I live in New York and you see celebrities. That's not the thing that phased me. I've looked up to her for so long and it was so surreal. Just to hear her advice and compliments, it was like, "Oh my gosh, this is happening!"
Q. Gina, RealityWanted: You went into the competition blonde but during Makeover Week, Tyra asked you to dye your hair dark. Have you kept that look?
A. Alexandra: Oh my god, yes! I was laughing because I told myself that I will never be the girl that cries no matter what happens. They go from bleach blonde, which I've had my whole life, to dark brown hair but I loved it! They did something crazy and dramatic so it's for the better. I have the brown hair right now! I like it alot.
Q. Gina, RealityWanted: Did you have a favorite challenge?
A. Alexandra: I thought that my favorite challenge was the Guess runway show because... it's funny. It's like everything on the show was meant to be. One of my dreams has always been to be a Guess girl. It's such a huge thing. The girls who are Guess models are the top in the industry and that's just a fact. It was the coolest challenge for me and one of the best parts of the whole show. It was a total adrenaline rush! I loved the style of the runway and everything about it. I also did really, really well in that challenge.
Q. Gina, RealityWanted: How difficult was it to transition into a male and play the part for the fragrance commercial on last week's episode?
A. Alexandra: It was a lot more difficult than I had actually expected it to be. I would've rather been eliminated from being a man in a commercial than off of my high fashion shoots. I'm not quite sure that a video of me kissing a 6'2 foot man is a representation of my abilities. It was a funny situation but when I left, I thought I had a good chance of coming back.
Q. Gina, RealityWanted: Speaking of, you seem to be very popular on social media. Are you prepared to give the competition another shot?
A. Alexandra: Yeah and that's the thing! When I left, I almost thought it didn't matter because my social media was always at the top and never went down. I wasn't totally confident but I was hoping that as long as I kicked ass, I would come back. It seemed like social media really loved me. My next moves are just to make sure that I listen to everything Tyra said and I'm working my ass off behind the scenes. Online, you can see us doing the photo shoots and trying to come back.
Q. Gina, RealityWanted: What did being on Top Model open your eyes to in terms of what you want to do with your career?
A. Alexandra: I feel like going away and being on Top Model taught me so much about what I want and what I don't want. You're away from your family for two months, and you're totally focused on the industry. I thought I knew some things and I knew nothing! I just learned so much and I think my goals are kind of the same as when I went on. This is the complete beginning for me and a stepping stone to get where I wanna go. I think I'm super personable and I left the show with everyone loving me. I feel like I took away more than just being on the show and also, I learned how to be more successful in modeling Once you're 25, you're old. You have to be able to brand yourself like Tyra does. Being able to understand how she did it is kind of invaluable, you know?

America's Next Top Model airs Fridays at 8/7c on The CW.
(Image courtesy of The CW)

Follow Gina @ginascarpa