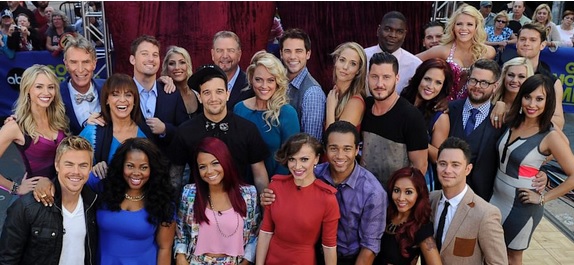 by Thea Napolitano

The new Dancing With The Stars cast was officially been announced this week and we've got all sorts of unique celebrities hitting the ballroom floor this season. Check out the lineup!
Leah Remini paired with Tony Dovolani- You will recognize Leah from the show "The King of Queens" and also magazine covers this summer after her recent break from the Church of Scientology.
Elizabeth Berkley paired with Val Chmerkovskiy - I'm so excited! I'm so excited! I'm so... scared. You have seen Elizabeth as Jessie from the popular 90s show Saved By The Bell. I bet Screech can't wait to see her moves on the dance floor!
Corbin Bleu paired with Karina Smirnoff - Corbin showed off his talent for singing, dancing, and acting in the High School Musical movie. He have the moves like Jagger but let's see if he can fit into the ballroom style.
Brant Daugherty paired with Peta Margatroyd - This studly American model has been seen on "Pretty Little Liars" and one of the only soaps around, "Days of Our Lives". If there was a mirrorball trophy for Best Looking Couple, it's safe to say these two would have it in the bag.
Valerie Harper paired with Tristan MacManus - Valerie will be an inspiration on this season of DWTS. The 74-year-old actress had been diagnosed with terminal brain cancer earlier in the year but received approval from her doctor to participate due to being very close to remission. The "Mary Tyler Moore" star is up and running, ready to dance her socks off.
Bill Engvall paired with Emma Slater - Bill should have no problem being under the spotlight given that he is a stand-up comic. The country comedian is part of the Blue Collar Comedy Group and is known for his "Here's Your Sign" bit.
Christina Milian paired with Mark Ballas - The "Dip It Low" singer has been in the industry since a young age. Her familiar face has also been seen in recent years as the social media correspondent on the hit NBC show, The Voice.
Keyshawn Johnson paired with Sharna Burgess - Who said athletes couldn't dance? Certainly not SEVEN who have won DWTS in the past 15 seasons. That's quite a record! Keyshawn may have been a professional wide receiver for 11 years in the NFL but now he may just turn into a professional dancer!
Bill Nye paired with Tyne Stecklein - Everybody knows Bill Nye the Science Guy! Bill has educated children worldwide through his popular tv show and was a science educator on screen and off screen. I'm rooting for the scientist!
Nicole "Snooki" Polizzi paired with Sasha Farber - Snooki has fist pumped her way onto the cast of DWTS. If you never got to see Jersey Shore, then you might have seen her on her own MTV spinoff show with her partner in crime JWoww. She's full of energy and now that she has a little baby boy, she's ready to get back in the groove of things.
Jack Osbourne paired with Cheryl Burke - We got a rocker in the house! Jack is the son of the famous English rock star Ozzy Ozbourne. The family may be living on the "crazy train" but they are all full of love and Jack has a family that will be supporting him throughout his journey on DWTS.
Amber Riley paired with Derek Hough - Amber, also know as Mercedes Jones on "Glee", is a Los Angeles native who knows what it's like to be under pressure. The singer, actress and dancer once auditioned for American Idol but wasn't selected! She is now on Dancing with the Stars.. even better!
We have a lot to look forward to on this news season of DWTS! It's going to be filled with nothing but excitement. Who's your early favorite to win?
Dancing With The Stars premieres Monday, September 16, on ABC.
(Image courtesy of ABC)