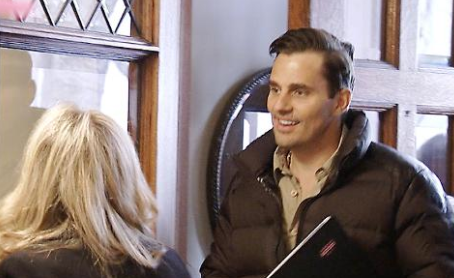 by Jessica Blackwell
As neat and tidy as their house always appears, Bill revealed that Giuliana is a hoarder! As is the case with any hoarder, Giuliana thought she was able to justify all the junk she accumulated in their garage. C'mon, who needs over seven strollers for one baby? She was reluctant to admit that she had problem, dubbing herself a "collector". 
Even Robbie and Sarah tried Giuliana to see the error of her "collecting" ways, but she just didn't want help. She just kept on hoarding, even including Duke's baby clothes that he would never wear again. Being the good friend that he was, Robbie decided to take matters into his own hands. He invited Tom, a hypnotherapist, to G&B's home help her out with her bad habits. His visualization techniques helped Giuliana imagine a simpler, less cluttered life. She said it helped - let's see how that works int he future! 
Inspired by Mother's Day and her mom's amazing italian cooking, Giuliana thought it would be great for her mother to put out a cookbook. Since G&B are no strangers to book deals, they met with their book agent to pitch a deal for her. The concept for the book is comparing down home italian cooking to the same recipes made in restaurants - pretty cool! 
The best thing about having a new baby is getting to celebrate your first Mother's Day!  Ok, maybe not the best thing, but it's definitely exciting to be shown lots of appreciation for a day. Leading up to Mother's Day, Bill made Giuliana feel like he wasn't going to do anything for her for Mother's Day. It sounds crazy, but after learning that a husband of one of her friends doesn't do anything for his wife, just his mom - Giuliana started to believe it. Of course he planned the sweetest day ever! He took her on a horse and carriage ride through New York City, reminding her of how far they've come since their last ride right after they found out she had cancer. Then he cooked dinner for her in an apron and presented her with a home made present that showcased Duke's handprints. Good job Bill! 
Next week, baby Duke goes tubing - sort of! Stay tuned! 
Giuliana & Bill airs Tuesdays at 8/9c on Style. 
(Image courtesy of the Style Network)