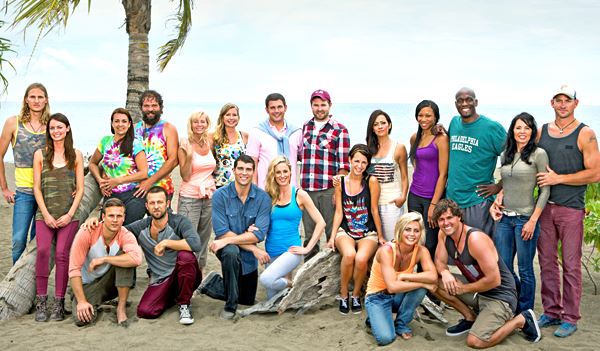 by Gina Scarpa
An extra half day in the game, the return of Redemption Island, idol clues to give away... these are just some of the twists that Survivor fans can expect to see when Blood vs. Water premieres next month. The show will take returning players and their loved ones and put them in the game alone for the night to create the illusion that they'll be able to work together. Little do they know that when the sun rises on the first full day in the game, they'll be split into two tribes and be forced to compete against each other!
One huge twist this season is that when someone is sent to Redemption Island, their loved one can swap in to take their place and compete if they feel they have a better shot at winning that round. Redemption Island will always feature three competitors, with one going home, and the other two remaining to face the next competitor. At some point, the player that lasts the longest on Redemption Island will come back into the game.
Check out the cast:
Tyson Apostol (Tocantins, Heroes Vs. Villains) and Rachel Foulger (girlfriend)
Rupert Boneham (Pearl Islands, All-Stars, Heroes Vs. Villains) and Laura Boneham (wife)
Aras Baskauskas (Panama: Exile Island) and Vytas Baskauskas (brother)
Gervase Peterson (Borneo) and Marissa Peterson (niece)
Kat Edorsson (One World) and Hayden Moss (boyfriend and Big Brother 12 winner)
Candice Cody (Cook Islands, Heroes Vs. Villains) and John (husband)
Laura Morett (Samoa) and Ciera Eastin (daughter)
Monica Culpepper (One World) and Brad (husband)
Colton Cumbie (One World) and Caleb Bankston (fiance)
Tina Wesson (Australian Outback, All-Stars) and Katie Collins (daughter)
Perhaps one of the most exciting pairs is Kat and Hayden. No other CBS contestant has ever appeared on Survivor, and Hayden definitely proved to be a competitor during his time on Big Brother. It's also wonderful to see the return of early favorites Gervase and Tina, both of whom first competed well over a decade ago and have a wealth of Survivor knowledge. Don't underestimate Monica Culpepper, though. While she didn't last long in the game, she's a fierce competitor. And did we mention her husband is an ex-NFL player?!
Survivor: Blood vs. Water premieres Wednesday, September 16th, and 8/7c on CBS.
(Image courtesy of CBS)
Follow Gina @ginascarpa