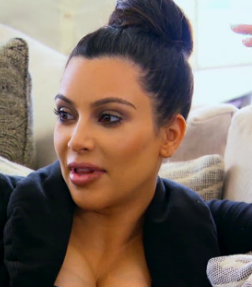 by Jessica Blackwell
If you've been watching, you know that Kim, Kourtney, Khloé, and Scott have been prank calling Kris for months, claiming to be her friend's son Todd Kraines. Scott's been using this really creepy voice when he calls, sending her champagne at Nobu, and just stalking her in general all under the nam of this poor unsuspecting Kraines fellow. It all came to a head tonight when Scott decided he was tired of  impersonating Todd.  The girls had no choice but to call in reinforcements - the real Todd Kraines! He was tickled when he found out that they'd been using him for the prank and then he showed up at the Kardashian residence as the ultimate conclusion. Scott let his Todd voice rip and Kris bursted out laughing when she realized her kids were behind the whole thing.
It seems that old Brucie is really interested in having his side of the family on the show more. For seven seasons, it was just Kardashians, but as of late his children have become permanent fixtures on the show. On this episode, he was looking to reconnect with his mother, who doesn't get along too well with Kris. I just assumed that Bruce's parents passed on, they're never mentioned on the show, but his mother is alive and kicking. 
Despite the fact that his mom is 87 years old and just lost her 95 year old husband, Kris didn't want her around. Bruce was determined to see his two favorite ladies get along, so he brought her down anyway and gave them the space they needed to get through 23 years of tension. It was awkward at first, but they finally made up before it was too late. 
Poor Kim thought that her pregnancy was cramping her style and making her uncool, so she became obsessed with Kylie's blog and fashion choices. I guess Kanye got too busy with recording his new album to continue picking out her clothes, so she had to look to the younger crowd for inspiration. She even revealed that when Kanye consults her on album cover art, he looks for Kylie's opinion too. Side note: I hope Kim wasn't behind that god awful blank CD with a strip of masking tape cover that Kanye decided on. If she was, she's got bigger problems than her fashion choices. 
When Kylie dissed Kim by refusing to feature her on the Tumblr account that Kim was obsessing over, Kim got even by raiding Kylie's closet and taking back all the clothes she lent her. I get it - if you're going to steal clothes and bite off style, have enough respect to give credit where its due, however, I think Kim was a little salty about losing her cool. Honestly, instead of trying to be all dressed up during her pregnancy, she should have just succumbed to the mommy style and worn comfortable clothes. She looked really constipated during the 9 months she was pregnant and I suspect trying to keep up with the fashion played a hand in that. Ah well, that's all over soon and I bet Kim will be back to her pre-pregnancy body in no time. 
Next week, Kourtney tries to serve the family placenta (barf) and Rob gets a noisy new hobby. Stay tuned! 
Keeping Up With The Kardashians airs Sundays at 9/10c on E! 
(Image courtesy of E!)