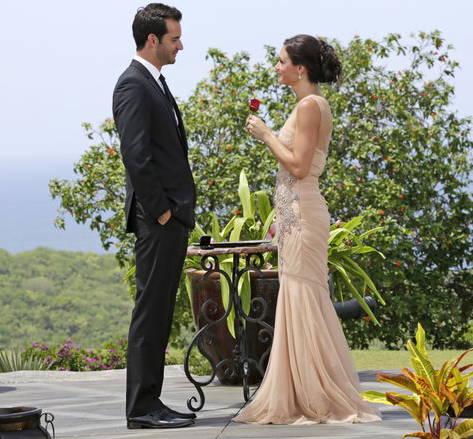 by Gina Scarpa
On minute, Desiree Hartsock was suffering from a serious case of heartbreak and the next, she was happily getting engaged! Monday night's finale of The Bachelorette was a whirlwind of emotions but in the end, she told Chris Siegfried that she loved him and was ready to share her life with him. The two are moving in together, in his hometown of Seattle, later this month and chatted with RealityWanted and reporters in a press conference call about their relationship post-Bachelorette.
Q. Gina, RealityWanted: We saw a little bit of your conversation about what happened when Brooks left. I was wondering if you can talk a little bit about the conversations that you had afterwards to kind of clear up what had happened there so that you could move forward.
A. Desiree: Yes, I mean, I did express to him during the proposal everything that had happened with Brooks and I needed him to know that in order to move forward and be honest. Since the proposal, I don't know. We haven't needed to rehash anything more. He pretty much knows all the details and that didn't bother him.
A. Chris: Yes, we've really been focusing on our relationship now. That's not something that everybody gets to see and I was glad that she was honest with me and that's kind of where we wanted to start our relationship.

Q. Desiree, do you plan to take Chris's last name?
A. Desiree: I do, definitely. I'm very traditional in that sense. So, I will be a Siegfried.
Q. Also, if you have a favorite memory of your time together on The Bachelorette?
A. Desiree: You know, there's so many unique memories and also so many great times with Chris that I can't even pinpoint just one. I mean, obviously the proposal, of course. I think that what also was nice for me was to see his hometown and to be on the baseball field with him. To be honest, that was a really great moment because I could see my future and what it would look like with him.
A. Chris: I really enjoyed seeing her out there on the baseball field playing catch with her and watching her swing a bat. I was very impressed and I think I expressed that quite a bit on the show.
Q. Viewers wondered why you never told Chris that you had already eliminated Drew until the very last minute. Was that something the producers wouldn't let you tell him?
A. Desiree: No, actually, I just didn't want to put that added pressure on to him. I never had any kind of hopes for Brooks to come back. That ship had sailed. So, I was just focused on my relationship with Chris and I wanted it to be the right moment and the right time to really express everything to him. I think it worked out nicely when he found out.
Q. What has been the hardest thing about your relationship since the show wrapped besides the distance and the media attention?
A. Desiree: The hardest thing? You know, to be honest, I would say the hardest thing is just not being able to do normal couple things. You know, go get a cup of coffee or just share my day with him, you know?
A. Chris: Yes, we want to get back to exactly how we were before and out in the public and enjoying ourselves and grabbing breakfast and coffee like she said and going on hikes, so...
A. Desiree: The hardest part was just being away and not being able to have that normalcy.
Q. Des, we saw you describing California as your home. What made you decide to move to Seattle and so quickly as well?
A. Desiree: I have always loved California and that's mainly because I haven't had any roots anywhere with my family. I've always been away from them and I think that I've thought about living in other areas but I haven't met someone that I wanted to spend my life with. I think you compromise and you make it work. So, I wanted to move to be with Chris. I was going to wait until the end of the year but after waiting for three months, we realized that we missed each other too much and we just need to start out life together as soon as possible.
Q. What are dates nights like now that you're not climbing mountains or on boats in Antigua? What is a perfect date night going to look like now?
A. Desiree: You know what? We actually have our first date planned and that's just to explore Seattle and to take a walk, grab some breakfast. We don't need the mountains and the helicopters. We just need a good conversation and time together. What do you think?
A. Chris: We've kind of drawn out our date in Seattle, our first date. We're both very excited to have that experience here shortly.
Q. Desiree, what do you plan to do when you get to Seattle as far as your career?
A. Desiree: For many, many years, my dream has been to design my own bridal gown collection. So, I can design anywhere I want to be and I can be creative. That's what I plan to do... work on a jewelry line and a bridal line.
Q. Do you think you'll design your own wedding gown?
A. Desiree: Definitely, yes, I will definitely design my own wedding gown.
Q. Chris, can you describe to us what was going through your mind when she stopped you right before you got down and proposed to her?
A. Chris: Well, I was getting down on one knee to propose and she so kindly brought me back up. I was at first wondering what it was that she had to tell me right at that instance. You know, when I first walked up to her and saw her smile and she gave me a kiss, I knew that the next few minutes were only going to be positive. So I was just open to hearing whatever she had to say and I was a little nervous but in the end it actually ended up being great.
Q. When Brooks left, you said, "This is the end for me." You said you wanted to leave. I think some of us are just wondering how you went from that dark place to getting engaged just a couple days later.
A. Desiree: Of course I mean, anybody can relate that, in a heartbreak any type of rejection, the first thing you want to do is just be alone and you want to curl up in your bed and kind of eat a tub of ice cream. I didn't have the opportunity to do that so it's a normal kind of thing to be hurt after a rejection. But the way I got past it is... the feelings that come during this experience, they're very accelerated just because I do get to know these guys pretty quickly. I think that also is what helped me get past it pretty quickly is because I can't make someone love me and so I wasn't going to dwell on that but really take time to see the other relationships that I formed. And, yes, I was actually able to really just look beyond Brooks leaving and to see the good that was going to come from it.
Q. And Chris, why did you opt not to watch Brooks' goodbye in full?
A. Chris: You know, that was something Des and I decided early on that the one nice thing or however you will take it for Des and I is that we've been able to build something very strong since the proposal. We decided early on that it was just best for me to watch the parts that we shared together in all the episodes. It really isn't that hard for me to turn the T.V. after her and I... our date.
A. Desiree: Yes, we weren't going to let what had happened in the past really define what our future is going to be.
A. Chris: There's no real reason to bring up old feelings like that. Especially, like she said, she was able to move on and at such an accelerated atmosphere.
Q. Any chance you'll go on a double date with Sean and Catherine?
A. Desiree: I do like them both and I do speak to both of them. So, that would be a possibility.
Q. Has Chris spent much time with your brother, Nate?
A. Desiree: No, they haven't been able to spend much time but the time that my brother was able to meet Chris, he really took a liking to him and has nothing but kind words to say. I think my brother can see all that Chris is and what he means to me and I think that's all that matters.
Q. You've been in so many fantastic place. Where would you possibly honeymoon?
A. Chris: Good question. Where should we go? You know, we did like a lot of the places that we visited.
A. Desiree: I loved Spain.
A. Chris: Yes, we both really liked Spain. So we could both see ourselves going back to Spain possibly.
A. Desiree: And you can never go wrong with like an island.
Q. Have you guys set a wedding date yet?
A. Desiree: You know, we have discussed it and we would love to get married next summer. We don't have an exact date but we're definitely planning it.
A. Chris: Yes, it's in the making.
Q. What is the best love advice you can give?
A. Chris: To keep an open mind and...
A. Desiree: An open heart. Also, I think it's really trying to see through the other's eyes and allowing yourself to be selfless and I think that's when you can have a balance in give and take and I think that's what keeps a good foundation.
Q. What makes you the most nervous about moving in together?
A. Chris: Well, she has a tendency to use my toothbrush.
A. Desiree: No, I do not. He just made that up. I'm actually, I don't have any nerves.
A. Chris: Yes, we both feel very confident and comfortable with this decision and we're both very excited.
A. Desiree: I think it's just the next step in our relationship and it can only get better.
Q. Do you have any advice for Juan Pablo?
A. Desiree: Juan Pablo is a very sincere like great guy, and I think he's a good choice for a Bachelor. Any advice? I would just tell him to stay open and to really follow his heart and take time out to reflect on his own feelings. It's a lot of emotions to deal with. I hope that he can stay grounded and really find the love of his life because he does deserve it.

(Image courtesy of ABC)

Follow Gina @ginascarpa