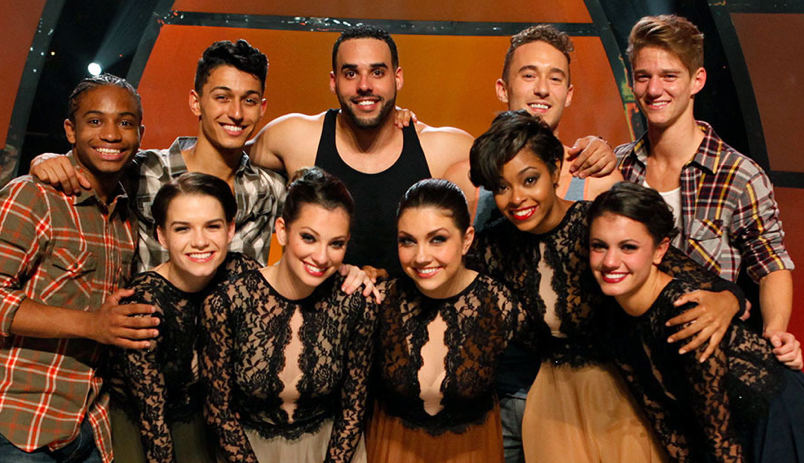 by Gina Scarpa

Other than The Green Mile, there is no tougher cut throughout So You Think You Can Dance than this week's. The dancers who make it through the night will head out on tour, while the two who are sent home will pray to be selected as alternates/swings. After an opening Bollywood routine, Kat announces that Jenna, Malece, Amy(!), Tucker, Nico, and Alan are in the bottom six. Nigel decides to save Nico and Amy, sending them straight into the Top 10 and on tour.

After the solos are performed, it's time to get to this week's routines. Though Tucker toughed it out for his solo, he was too injured to perform the two numbers he was scheduled to appear in, so the judges will have to mostly base everything off of his season as a whole.
Let me tell you, the choreographers BROUGHT IT this week! Here's a look at the standout routines from the Top 12 this week:
5. Jenna and All-Star Alex Wong: Paso Doble choreographed by Jean-Marc Genereux
What's a season of So You Think You Can Dance without injuries? Though I don't want to see Tucker have to sit out, I can't help but jump up and down at the appearance of all-star Alex Wong. The best part? HE'S dancing out of his style too, but he rocks this pirate paso doble with Jenna. Not only is it creative but the two were completely committed and brought an intensity that had the judges on their feet.
4. Top 6 Girls: Contemporary choreographed by Stacey Tookey
Going into rehearsals, Stacey Tookey was hoping to show the strength and beauty of the top six women. Mission accomplished! It was an absolutely beautiful routine, about women at the fountain of youth who realize that their beauty actually comes from within. They had lifts (thank you, Jasmine) and beautiful partnering of one another, as well as opportunities to show their individual strength and technique. There's a reason why Mary Murphy says these are the best top six females they've ever had.
3. Jasmine and Aaron: Hip-Hop choreographed by NappyTabs
Jasmine and Aaron are an unstoppable force in this competition and their hot tamale train kept rolling forward with this NappyTabs routine. Jasmine's fierce alter-ego came out and she turned into a hip-hop diva, while Aaron brought enough energy for all of Las Vegas. It's sad to think that this was their last routine together as a couple before being paired with all-stars but hey, at least they went out with a bang!
2. Makenzie and Paul: Contemporary choreographed by Mandy Moore
Mandy Moore put together an absolutely beautiful piece about star-crossed lovers. She must've been feeling slightly inspired by Sonya Tayeh, who is famous for creating amazing "snapshots" in her routines. Whatever the inspiration, this may be my favorite piece by Mandy and there is just no denying the chemistry that Makenzie and Paul have.
1. Hayley and Nico: Broadway choreographed by Sean Cheesman
When I heard Sean Cheesman was doing Broadway, I couldn't help but say out loud, "Why?" Typically, on the show, he has choreographed jazz routines but by the time this number set to "Kiss of the Spider Woman" came to a close, I shut my mouth. It was hands down the best Broadway routine the show has ever done and one we'll most definitely be seeing on the tour!
At the end of the night, Nigel bid farewell to a teary Malece and Alan, but said he would do his best to still get them on the tour. Let's cross our fingers!
So You Think You Can Dance airs Tuesdays at 8/7c on FOX.
(Image courtesy of FOX)

Follow Gina @ginascarpa