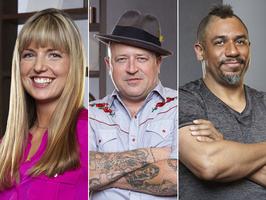 by Kylene Hamulak
It's the final four on Food Network Star, and it's time for them to make their final pitches to the network, after which only three of the contestants will have the chance to present their pilots to the viewers.
Each chef will have a brainstorming session with the mentors, where they will discuss two of the chef's concepts for a pilot and determine which one to present to the network. Rodney predicts that once they all see what he's about, there'll be nothing but "confetti, and roses, and the Food Network Star sash" across his chest. Apparently the Pie Guy thinks this is Miss America.
Brainstorm:
Stacey: The first of her two ideas is to modernize classic recipes by visiting places currently cooking those dishes. The second is looking through old cookbooks and problem solving to make those recipes better. The mentors suggest she work with recipes that are solid but need some help, rather than try to fix dishes that are working.
Russell: Russell's first idea also consists of visiting places and focusing on a specific "culinary sin," while the second is him having a dinner party and cooking in that "sinful way." I'm not surprised when the mentors' blank stares are accompanied by crickets. Eventually, he decides on a fusion of the two ideas, where he brings his culinary sins to share with restaurants.
Rodney: Throughout the competition, Rodney has been talking about "pie style," often leaving us all wondering what he was talking about. His first show idea is to visit a restaurant and take their signature dish and make it into a pie. The second idea is to contact an artist or musician and find a way to make his or her favorite dish into a pie. The mentors unanimously agree that the first idea has a lot more promise - Alton suggests that it could be a sort of challenge.
Damaris: Oh, Damaris. How have you made it this far in the competition? Her first idea is basically to talk about the "modern south" and the history of the food, so she quickly moves to her second idea: how a guy can win over a girl with Southern cooking. The judges are instantly on board.
Network Pitch:
Stacey: Stacey begins her pitch with a story about how she wants to help people when their dishes fall into "disrepair." She wants to make "modern magic" out of vintage dishes. Susie thinks it feels sad, and Bob agrees - he faults her for how she's packaged her pitch.
Russell: Russell's pitch for "Guilty Pleasures" goes much better. He's beginning to get a better handle on what people what to hear about his "culinary sins" and Bob and Susie both like him enough to forgive his "confusing concept."
Damaris: "Eat, Date, Love" - that's the name of Damaris's show, and her pitch is probably her strongest performance of the season. Her personality is finally focused enough to impress the network, and both Susie and Bob are on board with her concept.
Rodney: Of course, Rodney is super confident after his  "Pie Style" pitch, but is the network on board? Bob thinks it's relatable and fun, and Susie admits she's charmed.
The network easily decides to green light Damaris's pilot, and it's not too tough to give Rodney a chance with the endorsement of the mentors. Everyone agrees that his personality is intriguing enough to see where he goes. The final spot isn't as easy - leaving it to a vote, the group is split between Stacey (Bobby and Bob) and Russell (Susie and Giada) leaving Alton as the tie-breaker. Russell ultimately wins the final spot.   
The Pilots:
"Pie Style": Rodney meets up with Eric Greenspan, with the challenge of turning his grilled cheese into a pie. The special mentor assigned to him is Guy Fieri, who teaches him how to take "princess bites" when tasting food. Rodney calls the pilot the most fun thing he's ever done.
"Guilty Pleasures": Russell is shooting his pilot at Bennett's Ice Cream Shop at the Farmer's Market in LA, and he, too, will be mentored by Guy Fieri. He has a lot of trouble with his intro, as he's preoccupied with his lines until Guy reminds him not to be rehearsed. He manages to make it work after he relaxes, and he declares that HE looks like a Food Network STAR. I wonder if people will be put off by his ego or buy into it as part of his schtick?
"Eat, Date, Love": Damaris - surprise! - meets Guy Fieri when she arrives at her shoot, too. Her intro goes well, but, despite Guy jumping around to get her attention, Damaris forgets that she's also supposed to be engaging with the camera. Guy reminds her that she's teaching her audience as well as her guest, and she does a lot better as she gets more comfortable.
Evaluation:
Well, it's up to America now - viewers can visit the Food Network website to vote for their favorite pilot. I know which show would make ME tune in - who do you hope to see on your menu?
Catch The Next Food Network Star Finale next Sunday at 9/8c on Food Network!
(Image courtesy of The Food Network)
Follow Kylene on Twitter @keepingupwithky!