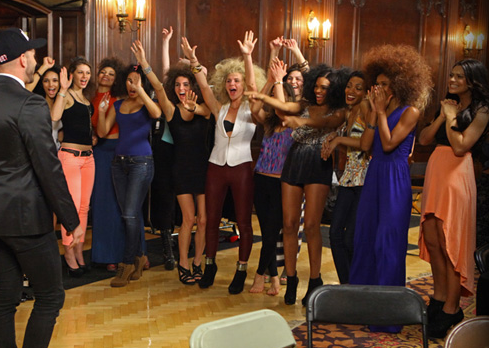 by Thea Napolitano
The search is on and boy, is it sizzling hot! The premiere episode of America's Next Top Model Cycle 20 has heads turning left and right when it came to the 35 hand selected male and female contestants. That's right... I said it... MALE! This season is one for the books with its first ever, battle of the sexes, modeling competition!
With the women on one side and the men on the other, they were all anxiously waiting to see what they were up against. Right off the bat, each male and female were paired together for a masquerade runway showdown. Not only were they meeting each other for the first time while showing off their walk and fierce personalities side- by- side, but also took it to the next level by sealing their walk with a kiss. The hidden masks came off and the lips did the talking for this masquerade challenge. Sparks were flying for some and crushes may already be forming but will that get in the way of what's really up for grabs? You know, like a $100,000 Guess Ad Campaign OR a spread in NYLON Magazine!
After all the flirtatious fun, it was time to get to it by choosing only 26 diverse contestants to enter the house and get a taste of the life they could have. Things started off rocky with Chris H. bringing out the boxing gloves (literally), thinking it would be all in fun to mess with some of the guys, causing tension in the house. Luckily for him, it was time for a challenge that got everybody to focus on that rather than his "misunderstood" tactics.
The challenge was a big screen shoot in the center of Los Angeles for people to vote who they liked best. Some came out strong while another 10 models were sent home for good, leaving 8 women and 8 men. Virgg, a transgender contestant, resigned from the competition due to her health, which left many contestants feeling upset since they saw her as an inspiration.
Things are just heating up, ANTM fans!  Are you rooting for the guys or the girls?
Americas Next Top Model airs Fridays at 8/9c on The CW.
(Image courtesy of The CW)