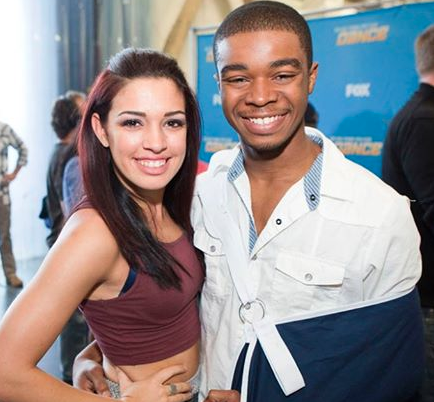 by Gina Scarpa
This week on So You Think You Can Dance, with a heavy heart, Nigel Lythgoe announced that two tappers would be leaving the competition. Alexis Juliano and Curtis Holland fell into the bottom six and while Alexis performed her solo in an attempt to sway the judges, Curtis was sidelined with an injury. Leaving is never easy, but the pair exited with smiles on their faces, proud of how far they had made it. They talked to RealityWanted and reporters in a press conference call afterwards about their journey on the show.
Q. Gina, RealityWanted: It seems like, traditionally, tappers tend to leave the competition early. Is something that you were worried about as you headed into the Top 20?
A. Alexis: I was definitely concerned that that might have happened but I definitely think the run I had on the show was amazing. Just to make it to Top 14 was an amazing thing for me because I didn't even think I was going to make Top 20. I think, maybe, tappers don't normally make it far, but I feel like Top 14 is pretty good.
A. Curtis: I agree. I think that Top 14 is a big feat. I think that, sometimes, tappers do get the lower hand, but I think that we've had an amazing run because of the dancers and the choreographers that we've been able to work with. I don't think that our run was specifically bad and I don't think, this year, tappers have gotten a bad rap. I just think that with certain circumstances, two people had to go and they just both happened to be tappers.
Q. Gina, RealityWanted: I really loved watching both of you whenever you would get contemporary. Did you have a favorite style or choreographer that you got to work with?
A. Alexis: I definitely loved my contemporary piece with Sonya, just because she pushes you. She, like, knows everything about you. I don't know... she just knows who you are and the kind of person you are. Just the way she talks to you, she can definitely change you as a dancer for the better. To get to do that piece with her was an amazing way to leave the show. Yes, she's definitely my favorite and I love contemporary.
A. Curtis: I actually loved them all, I can't even pick one. Probably my hip-hop, Chris Scott, because I feel like that was the time that I really got into the groove on the show. That was my first piece. My other favorite piece would, I think, be Dee Caspary's ladder piece, just because I feel like I had to reach a farther place than I usually like to go. Dee helped me bring out something in me that I knew was in there but I was afraid to touch. So it was good.

Q. Were you surprised to get eliminated, or did you sense it coming beforehand at all?
A. Alexis: I think once I found out I was in the bottom, I kind of prepared myself for the worst but hoped for the best. You never really know, so you just have to hope for the best. That's just not what happened that time. But it was still an amazing run. Jasmine Harper is absolutely amazing.
A. Curtis: I don't think that I knew that it was going to happen, but I considered it just because I wasn't able to show the judges anything this week because of my injury. I prepared myself for going home, but I always try to be optimistic and look for the better parts in things.
Q. As tap dancers, how much training did you have in all the other dance genres that are featured on the show? How difficult was it to learn and pick up on all the other styles throughout the season? Do you two feel like you two had it especially hard considering you're tappers?
A. Alexis: Honestly, I trained in all the other styles, except ballroom, just as much as I trained in tap. But I think tap was definitely my strongest suit and just what I really love. I definitely think the challenge as a tapper was more the partnering work, just because I'm not used to the major lifts that we did on the show. And to have to connect to a partner because, when you're tapping, you're usually by yourself. You don't have to connect so much with other people on the stage, just with the audience. It was definitely a struggle. Having to do the choreo part of it wasn't too challenging. It was definitely challenging, but not in the aspect that I've never done it before. Except for the ballroom; that was definitely very challenging because I'd never done it before.
A. Curtis: I feel the same way. I've had training also. I trained at a studio that my dad actually owned since I was four. So, just like Lexie said, I just liked that more. It wasn't specifically hard, but it was just certain techniques and certain things that I usually did not get exposure to because I trained in tap more diligently than I did in the other styles. So some of the moves were specifically hard, but I think with the work ethic that both Lexie and I have, we were able to try and pick up as much as we could.
Q. How proud are you of tap's strong showing this season and the role that you two have both played in that?
A. Alexis: I'm very proud. Just the fact that there were three tappers this season is so amazing. We both, Curtis and I, have made it far. This Top 14 is a big accomplishment, I feel like. Yes, tap is definitely growing in the world, and I think more people are starting to love it and try it. It's amazing to see where tap is going.
A. Curtis: I think that it's such a great thing when you go into a competition and you're not the only one of your style there because you feel like you have other people by your side. I feel like we've all been able to help each other grow. Especially in our solos, we've been able to help each other. I think that's why we've been able to make it as far as we did because we had the support of others in our same style.
Q. Your routine within the Top 20 with Aaron, that tap routine to that Jason Mraz song, I think is the best tap routine we've ever seen on the show. How much fun was that routine for you guys to do?
A. Alexis: That was amazing, just to be able to tap with Curtis and Aaron. There's such a feeling that you have on stage with them. They're amazing people; they're just so energetic. It was just amazing to work with them and Anthony Morigerato and just getting to tap dance on that stage is amazing.
A. Curtis: And the boards were awesome, too. Sliding all over on the boards was awesome. It was all about pushing ourselves and it was great to push ourselves and just tap and do what we love because that's one of the only times that we get to on the show. So we really tried to take advantage of it.

Q. Which routines pushed you the most, be it emotionally, mentally, or technically?
A. Alexis: I think the piece that definitely pushed me the most in all those aspects would have had to have been Sonya's contemporary piece. Emotionally, that was a very sad and devastating one to have to play the part of someone who's heartbroken and who's dying inside. It definitely hit me emotionally, just getting connected into that character. But then, also, technically because that contemporary piece was so... it was just so much on the body and it was so full out all the time. There were a lot of things that you had to do in that piece. I definitely think it just made me grow as a person and as a performer.
A. Curtis: I've had two pieces that have pushed me. The first piece was Dee Caspry's ladder piece. It pushed me emotionally because it made me go to a place where, you know, I don't usually explore and feelings and thoughts that I don't usually like to think about. It made me be able to be vulnerable and to dance from my heart. The second piece would have to be, although I didn't perform it, the Argentine tango, with Leonardo and Miriam. Technically, it's very, very, very tough because it's the Argentine tango! I really just had to get grounded in the flow and pick up on the technique very quickly. So it was tough. I was doing well, but my shoulder gave out on me.
Q. Because there were three tapping in the season, and all of you have such unique styles, how would you describe each other's tapping style?
A. Alexis: I think that Curtis' style is very fun and energetic and just full out all the time. He's just so amazing at what he does. The stuff that he does, even though they're small, intricate steps, he just makes them so big and so full out that no one's ever bored watching them. Then, I feel like Aaron's style is just very cool, but you're going to watch him just because he's so in it with his whole body. Everything's always moving. He's just a great performer on stage, as well.
A. Curtis: I think that Lexie's style is very fast. Very fast and very clear and crisp. I think that she's very smooth and poised with what she does. She never looks like she's about to break a sweat and I think that's a great thing.
Q. Curtis, it was obviously revealed that you asked Hayley out on a date. I just kind of wanted to see a little bit more into that.
A. Curtis: Oh, no. It was just for our connection on stage. It was definitely just for our connection on stage because our piece was about a relationship, and in order for us to actually pretend that we were in a relationship, I felt like we needed to go out on a date and be in a relationship. So it was all for the piece and it was all just for the piece. She has a boyfriend, actually.
Q. Last week the judges, Nigel in particular, had some pretty harsh criticism for both of you and both of your routines. How much do you think that the judges and what they have to say affects the way America votes?
A. Alexis: I definitely think they affect the way America thinks about how the dance was and how we portrayed the dance. They have to give America something to go off of. So yes, I definitely think when Nigel says you kind of died towards the end, America might not have noticed that at first, but then watching it again maybe they can see oh, wow, I kind of agree with Nigel. So yes, I definitely think that some of the corrections that we get go into play. But I also think it's America's favorite dancer, so it's really whoever America wants and if Nigel went a little hard on your favorite dancer, you'll maybe vote for them a million times more, you know what I mean? So it just plays both ways.

So You Think I Can Dance airs Tuesdays at 8/7c on FOX.
(Image courtesy of FOX)

Follow Gina @ginascarpa