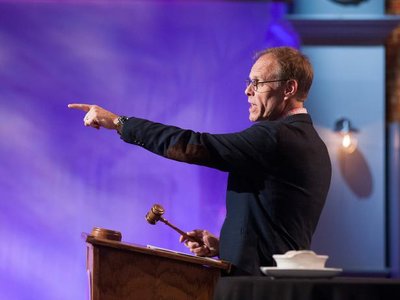 by Kylene Hamulak
Things are heating up in the Food Network Star kitchen, and now there are just six contestants left - half of what we started with!
Mentor Challenge: When the chefs arrive to find Bobby already cooking, they're all a little nervous. He tells them that the challenge will test their food terminology and how well they can describe their food to an audience that will never smell or taste it. Each chef will taste the special dish he has prepared, then speak about it for a minute - without using any of the "crutch words" they've come to depend on.
Rodney is the first up, and it is immediately clear that not using those words (delicious, incredible, sexy, etc.) is going to be a challenge. Bobby tells him it was a disaster. Nicki does a lot better - she only gets buzzed a single time. Chad admits he doesn't have much vocabulary to work with, and Bobby can tell he's reaching for words. He calls it "a long minute."
Stacey comes on and begins with a story, which Bobby likes - he says she does a really great job. Damaris is petrified, and while she doesn't get buzzed, Bobby calls it "clinical" and "not a good effort." Russell can't find words either, and every time he does, they earn him a buzz. Bobby says he's disappointed in him.
Bobby tells the group that Nicki and Stacey are the only two who did well in the challenge, and he names Stacey the winner. Though she will get an advantage in the Star Challenge, Bobby gets a little dig in by reminding her that the competition wasn't exactly tough. That takes a little of the wind of your sail, doesn't it Stacey?
Star Challenge: Each chef has an hour to make a dish that reflects their "culinary message." Each plate will go up for auction after the chefs describe their food to the "Gastronauts", with all proceeds going to charity. The highest earning dish will win that chef safety for the challenge, and Stacey's advantage is an extra $10 towards her total.
Chad, Texas BBQ Poutine: Chad's dish is based off a popular dish from his restaurant, and he wants to send the message that he is the barbeque authority for the audience. Unfortunately, his presentation is uncomfortable - he's searching for words and seems nervous. The panel notes that the sausage is good, but the potatoes are not impressive.
Russell, Egg & Bacon Revolution: This ain't no ordinary bacon and egg sandwich. This one is using trout eggs, and pork belly, and horseradish sauce ice cream. He's really excited about it (and also really confident), but he's flying around the kitchen trying to stay as close to being on time as possible. His presentation sounds fine until he starts describing his food, never fully finding a rhythm. While the "sandwich" does not get rave reviews (Giada describes it  as "too deconstructed"), his ice cream is well liked by the panel.
Stacey, Maple Bacon Cheesecake: As the signature dessert at her restaurant, Stacey is pretty confident that the cheesecake will be the perfect way for her to tell her culinary story. Unfortunately, her workstation is next to Russell's, and he's smoking up a storm - she's concerned that her cheesecake is going to take on the smell of his dish, and he doesn't seem at all apologetic about it. Her pitch is smooth and includes a story that fits organically in her presentation, but, as usual, she's a little boring. Still, her dish gets a lot of interest, and the panel is satisfied with her cheesecake.
Damaris, Green Bean Casserole: Look, we've all had that French's Onion Green Bean Casserole - do we really need ANOTHER option? Damaris thinks so, and she thinks this is it. She's comfortable in her presentation, and the audience reacts well to her personality. Her top bidder is happy she won the plate, and the panel agrees that she has raised the level of a green bean casserole.
Rodney, Berry & Rhubarb Pie: Rodney is seems confident in his pies for this challenge, and I'll admit they look pretty good. This challenge requires that he really demonstrate his own message, so if he's not comfortable now, when will he ever be? Uh...right. About that. His pitch is a performance, and not a good one. He puts on a one-man skit where he calls them astronauts instead of gastronauts, and then, 40 seconds in, begins talking about the food. Doesn't seem to matter though - the panel loves his pie. "It's ALL great," Giada says.
Nikki, Mushroom & Shrimp Pasta: Nicki's focus is really on the mushrooms in this dish, but she adds the shrimp to give it an extra layer of flavor. It seems to work well for her, as she finishes plating with enough time to help Stacey with her cheesecakes. Her presentation goes smoothly as well - she throws in buzzwords the mentors are proud of, she uses beautiful descriptions about her plate, and she seems totally comfortable making the pitch. The panel agrees that the dish is delicious.
Evaluation:
Bobby basically gives Damaris a pat on the pack for a decent performance, though the casserole didn't impress - it was all about how she sold it. Alton warns Russell that he has to pick - Revolution or Sins - because they're not working together anymore. Giada tells Stacey that she needs to be a little more spontaneous, but her dish was good. Bobby reminds Rodney that he needs to sell his pies, then tells him his dish was their favorite. Giada tells Chad that his plate was a miss, and his presentation was sloppy. And as for Nikki? Alton notes that she has done better since she stopped apologizing, and her dish was very well received by the panel.
Standouts: When the mentors reveal the highest bids for each plate, we learn the following:
Stacey - $180, plus $10 advantage. She is safe for the challenge.
Nikki - $130. Best presentation of the challenge.
Damaris - $130. Best improvement.
Rodney - $140. Safe, "By pie and pie alone," says Alton.
Up for Elimination:
Russell - $150. Judges believe he needs consistency, but he has changed throughout the competition.
Chad - $150. The mentors are concerned that he hasn't grown at all.
Russell is told he's safe.
Chad is eliminated.
Catch The Next Food Network Star every Sunday at 9/8c on Food Network!
(Image courtesy of The Food Network)
Follow Kylene on Twitter @keepingupwithky!