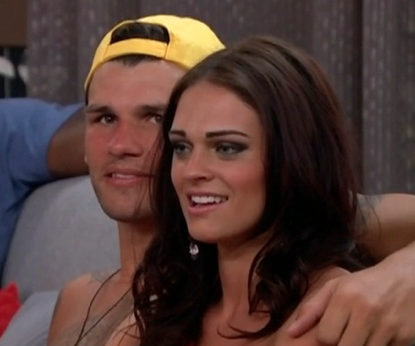 by Gina Scarpa
With all the controversy and divisions in the Big Brother house this season, Kaitlin has slowly started to realize she may have chosen the wrong alliance. Several houseguests have been unhappy with the racially insensitive comments that Aaryn, the queen bee in her alliance, has made over the last few weeks. Amanda tried to confront Aaryn about the way she's perceived, but she was unapologetic and had zero remorse. With Helen as the new HOH, her targets definitely include any and all members of Aaryn's alliance which, of course, includes Kaitlin.
After Helen's win, an argument broke out between Aaryn, Gina Marie, and Candice where the two alliance members ganged up on her, mocked her, and made comments about her being black. Howard had to literally pick Candice up and remove her from the room before things got ugly. Being present in the room for the fight, Kaitlin realized that she should probably think about jumping ship from her alliance.
First, she confronted Jeremy today, questioning whether or not he was truly loyal to her. Though he said he wanted her to stay, he was clear that he was playing the game for himself. Next, she headed to Candice, apologizing for everything that happened and admitting, "I want Aaryn out of this house because she brings out a bad part of me." Kaitlin is feeling manipulated and said the reason she had negative opinions of her fellow houseguests is because she listened to and believed the things Aaryn said.
Did you think Kaitlin is sincere about playing her own game?  Who should Helen nominate this week?  Let us know in the comments below!


Find out who Helen nominates for eviction on Big Brother, Sunday at 8/7c on CBS.
(Image courtesy of CBS)
Follow Gina @ginascarpa