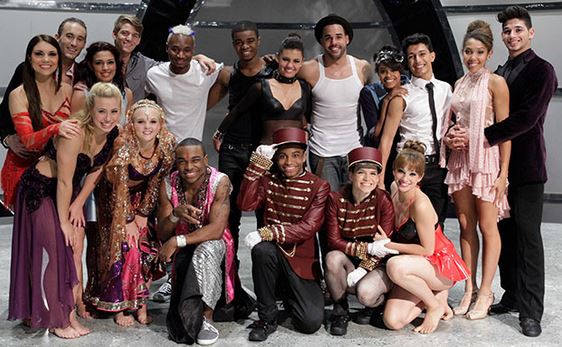 by Gina Scarpa
The fans of So You Think You Can Dance have been heard! After the judges brutally cut Brittany and Carlos in the first few minutes of the show last week, and fully expected them to perform as if nothing happened, the fans took to social media to express their unhappiness. Now, dancers will be eliminated at the end of the performances each week. Way to go, fans!
This week's bottom six were Jasmine Mason, Dorian "BluPrint" Hector, Jenna Johnson, Curtis Holland, Alexis Juliano, and Jade Zuberi. Animator Jade suffered an injury so serious, he had to pull out of the competition, so BluPrint and Curtis are safe by default. After solos, deliberations, and the routines this week, the panel decides it's the end of the journey for Jasmine Mason, who was one of my favorites. While I gather myself, here are the standout routines of the night.
5. Amy and Fik-Shun: Paso Doble choreographed by Jean-Marc Genereux
The question of the season: How does Fik-Shun do it? There's got to be SOME genre of dance that's going to trip him up (and if I had to guess, I'd say the quickstep but time will tell). So far though, he has yet to misstep, and the same can be said about his partner. This paso doble was powerful, passionate, and definitely a standout routine this week.
4. Jasmine Harper and Aaron: Broadway choreographed by Spencer Liff
Aaron is just quite the surprise this season, isn't he? Week after week, he is finding himself on the judges' good side and Jasmine H. seems like she can do no wrong. This routine, about a crime scene, detective, and a ghost was totally enjoyable and one of the best Broadway pieces in recent memory. I can't see these two going anywhere anytime soon, can you?
3. Mackenzie and Paul: Contemporary choreographed by Lindsay Nelko
The female fans seem to love Paul, but the judges have not been quite as smitten - until last night. New choreographer Lindsay Nelko made a huge impression with her tender piece, about a couple dealing with the woman's terminal illness. Mary felt she had yet to see a sincere performance from Paul, but he impressed with his honest portrayal of a boyfriend in pain. Mackenzie was beautiful as usual and this is easily their best performance of the season to date.
2. Malece and all-star Marco: Contemporary choreographed by Sonya Tayeh
Though it was very tough to see Jade make an early exit, it may have been to Malece's advantage, especially with this week's routine. A piece about leaving a legacy behind, the Sonya Tayeh contemporary routine was challenging and elegant, so all star Marco was the perfect person to step in as a partner. Malece showed incredible maturity and beautiful technique, bringing the judges to the feet when the music stopped.
1. Opening number choreographed by Sonya Tayeh and Christopher Scott
It seems like every time Sonya Tayeh and Christopher Scott choreograph a routine, they get better and better. When the two joined forces this week for the opening number, it was everything I hoped it would be and more. There was amazing partnership, stairs, slides, and a pit that the dancers kept jumping in, creating exciting and breathtaking pictures. They seem like a choreographed match made in heaven - more please!
So You Think You Can Dance airs Tuesdays at 8/7c on FOX.
(Image courtesy of FOX)

Follow Gina @ginascarpa