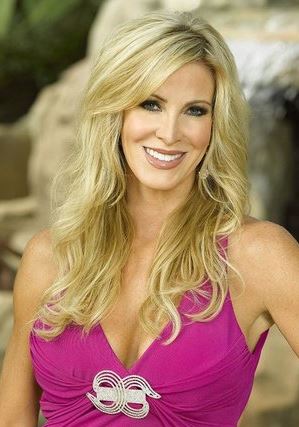 by Gina Scarpa
Original OC housewife Lauri Peterson has rejoined the group after several years of being away from the hit Bravo reality show. Longtime fans may notice that she's a bit different! In the past, she tended to keep her opinions quieter but this season, she returned with a bang, particularly with the dirt she has on former friend Vicki Guvalson. We chatted with Lauri today in an exclusive interview about what's changed over the last 7 years and whether or not she's returning to The Real Housewives of Orange County full-time.
Q. Gina, RealityWanted: As someone who has been involved with the show from the very beginning, how do you feel the OC housewives have changed over the years?
A. Lauri: Oh you know, I mean, the original really was a docu-soap. It was more about capturing the life, balancing careers, social life, that aspect. It was more about the individual family. The housewives would meet up and have a little drama but that was few and far between. Now, it seems like it's really changed in that viewers love drama! It's really more about the conflict.
Q. Gina, RealityWanted: We haven't seen you in a few years and when you left, it was to focus on your family. How are things now and what's it like to be back?
A. Lauri: Yeah, you know, that's exactly the truth. We had just gotten married and trying to blend 7 children together. My focus was on family. At that time, we had 5 teenagers living under the roof with some really young ones as well. Now, it's several years later and the majority of the children are out of the home. The truth of the matter is that Andy [Cohen] has been asking me back for the last several seasons and I'm kind of doing this for him. It's really good to catch up with the women and socialize again. It's been all about the family.
Q. Gina, RealityWanted: There seems to be more drama this season and you are definitely contributing to it in some ways. Can you talk to us about your part in everything, especially with Vicki?
A. Lauri: Well, you know, I don't know what it is but all of a sudden, I found my voice. I don't think people are used to hearing me speak up. That's a huge difference for me. There is a lot of drama... I don't know if there's more drama this year but more with me than there ever has been. In doing reality, you really have to step up to the plate. If you're thinking it, you have to say it. If I kept that in, the viewers wouldn't understand what's going through my mind. There are a couple situations this year where I have information and it's like, "Do I talk about it or not talk about it?" When it crosses your boundary of your belief system, I have to stand up for what I know to be true. I didn't even second guess myself. Of course now, viewing it and seeing people's reactions, it's hard to take criticism but I don't know. I stand up for the truth.
Q. Gina, RealityWanted: You and Vicki were once so close! Was there one particular catalyst for your friendship breaking down?
A. Lauri: Absolutely. We were what I determined to be very close. We shared a lot in confidence. There was a situation where I was working in the office and received a phone call from a woman who wanted to speak to Vicki. She shushed me out of the office, she was on the phone for over a half hour and when she came back in, she didn't mention it. The work day continued on as normal, only to find out the very next day that the phone call was George's ex-mother in law. We have been harassed by his ex-wife for many years. Vicki knew all this information of what we were going through. She knew what she was doing. To accept a phone call and entertain her even for a minute was far too long. The mother in law sent a very distressing email that was meant to get at me. Vicki sent it to several cast members, pretty much all our mutual friends. That was the catalyst and that defined our relationship at that moment. Friends don't do that to one another. I would keep things in and pretend like nothing happened. I was deeply hurt and we have never resolved that matter. I don't even know necessarily that these are secrets of Vicki's. I'm not the only person that shared these ongoings and indiscretions. I'm not the only person that knew that. I think that it was tough. I do have this information and I did want to sit down and discuss it with Vicki but the opportunity never came up.
Q. Gina, RealityWanted: There are definitely fans who are happy to see you back on the show and I'm wondering if this means perhaps we'll be seeing even more of you...
A. Lauri: I never say never! I'm just right now getting my feet wet to coming back full-time. It is a process. You have to dip your toe in and see if it's okay. We'll have to see. I haven't made any decisions at this point.

The Real Housewives of Orange County airs Mondays at 8/7c on Bravo.
(Image courtesy of Bravo)

Follow Gina @ginascarpa