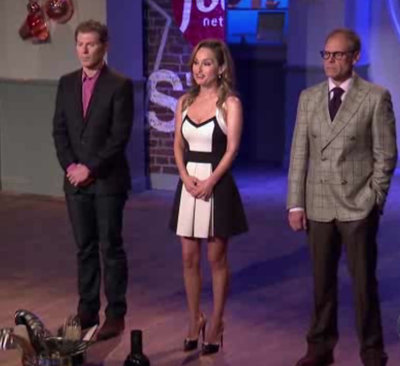 by Kylene Hamulak
Food Network Star's lucky seven contestants battle it out, this time pitching their brands as well as their dishes.
Challenge: The contestants have one hour to develop two samples that can be marketed and represent their culinary point of view. In addition to actually creating good products, they'll also have to pitch the product to three food executives from Kraft, Kellogg, and Target.
Chad, BBQ Baked Beans/Memphis Dry Rub Seasoning - Chad's the resident BBQ guy, so it's no surprise that he's going with baked beans and a dry rub. The other contestants can grill him (no pun intended) about his predictability all they want, but he's establishing a brand and doing it well. Still, the mentors aren't immediately impressed by either product, suggesting the beans may give him a better chance at standing out.
Nicki, Eggplant & Spinach Sauce/Roasted Pepper & Tomatillo Sauce - Nicki is going to offer two different vegetable sauces, one of which looks like vomit...or worse. The mentors are immediately turned of by her green spinach sauce, but her tomatillo sauce doesn't go over much better. When asked what it can be used for, she answers generally - Alton notes that you should always have three diverse uses prepared.
Rodney, Spinach & Cheese Quiche Kit/Mixed Berry Pie Kit - The Pie Guy is going to offer a "pie kit" - one quiche and one mixed berries - as alternative to frozen pies. The mentors are intrigued, though Bobby and Alton both warn him to keep his pitch simple - Rodney needs to not run off with all of his ideas.
Chris, Spiced Sweet Corn Bisque/Smoked Apple Jam - Blah blah blah - really, Chris? He's telling us that it's easy to bottle vegetables and BBQ and everything else the other contestants can peddle, but it's NOT easy to bottle a "passion for sharing food with others." He's going to try with a jam and a bisque. The bisque gets a disapproving "WHOA" from Bobby, but the jam gets better reviews from all three mentors. Their only advice? Don't call it a jam if it's more of a savory idea.
Russell, Bacon Candy/Chocolate Bourbon Ginger Ice Cream - He may have spent some time at risk for elimination recently, but Russell already has his own product line. Well, la di da, your majesty! He's going to make bacon candy and then some bourbon ice cream. The mentors love his bacon candy, with Giada suggesting it is a unique product.
Damaris, Whiskey Honey Vinaigrette/Grilled Peach & Chili Pepper Jam - Damaris is offering a jam and a vinaigrette...or, at least, that's what she intends to do. Unfortunately, Russell keeps stealing the bourbon, so she's forced to improvise with whiskey. The mentors aren't impressed with the vinaigrette flavor, suggesting it could use more than just one flavor. The jam, however, goes much better.
Stacey, Gluten & Dairy Free Cookie/Cayenne Butterscotch - If gluten-free and diary-free is what you're after, Stacey's got a cookie for you, as well as some butterscotch. She cooks for her son, who has a dairy intolerance, but she runs into a bit of a problem: her cookies just don't taste very good, so she makes a last ditch effort to improve on the flavor. Her last ditch effort? Not good. The mentors put down their cookies, but, much to Stacey's relief, enjoy her butterscotch. As a side note, I don't really understand what's going on with her hair.
Star Challenge: The contestants each sit with a graphic designer to work on packaging their products. Once they have developed the product further, they will make their pitch to the focus group.
Chad, Big Boy's BBQ Baked Beans: Despite his nerves, Chad's presentation seemed to go ok, though the focus group isn't that impressed. Kraft tells him that his packaging looks more like sloppy joe mix, and his description was more appealing than the dish.
Stacey, Hot Mama Butterscotch: Stacey has memorized a script in her head, which is great until she missed a beat and gets a little flustered. Despite her presentation, the focus group is responding well to the product. Kraft suggests her pitch, though polished, was a little boring, which has been a problem for Stacey throughout the competition.
Chris, Smoked Apple Ketchup: Before his pitch, Chris promises that he's a salesman, so this should go well. It doesn't. He describes the product well enough, but then he awkwardly throws in that a percentage of proceeds will go to charity (Giada's reaction is priceless in the background), and Target tells him he didn't seem connected to the product. Post pitch, when he tells the group the ketchup is used on chops at the largest applewood smokehouse in Ohio, they all tell him he should've focused on that. "That would've been money," Kraft tells him.
Nikki, Nikki Dinki's Pequillo Pepper Sauce: The more Nikki talks (or doesn't) the dumber she seems. She may be a great cook, but she can never answer a question intelligently! When Target asks her where her product might be merchandised, she literally has no idea what it means.
Russell, Sinful Bacon Candy: Russell nails his presentation. He's personable, he knows his product, and the entire focus group seems interested in what he's got to say. Kellogg calls him "authentic," while Target describes him as "endearing."
Damaris, Bourbon Peach and Ginger Jam: Hoping to channel Stacey's speaking ability, Damaris has scripted herself a pitch. Unfortunately, it comes off more robotic and unnatural to her, though Target describes her as "reserved." Kraft is very impressed with the labeling.
Rodney, Spinach & Cheese Quiche Kit: Rodney wrote a song. And he's gonna sing it for the focus group. He feels good, though the mentors aren't thrilled. As has frequently been his problem, the focus group has no idea what product they're getting from him.
Evaluation:
Standouts: Damaris presented a great product that the executives loved - the only thing missing was her personality in the pitch. Stacey's product got great reviews too, though Bobby recommends that she work on not being so rehearsed. Giada congratulates Russell - this was the first time she wanted to join him on his "revolution." However, none of the executives were buying into his idea for "bacon candy" as a product on their shelves.
Up for Elimination: Chad, Chris, Nikki, and Rodney are all at risk, now that there are so few contestants left. Chad's packaging really hurt him, while Nikki had a problem answering questions about her product. She tells Giada she's losing her confidence (as if Giada is going to feel sorry for her), and Giada tells her to work on that. Bobby tells Chris that he missed an opportunity and is concerned that he took a step backwards. Rodney, despite being entertaining, missed his points, and nobody wants to buy his product.
Chad, Nikki, and Rodney are told they're safe.
Chris is eliminated.
Catch The Next Food Network Star every Sunday at 9/8c on Food Network!
(Image courtesy of The Food Network)
Follow Kylene on Twitter @keepingupwithky!