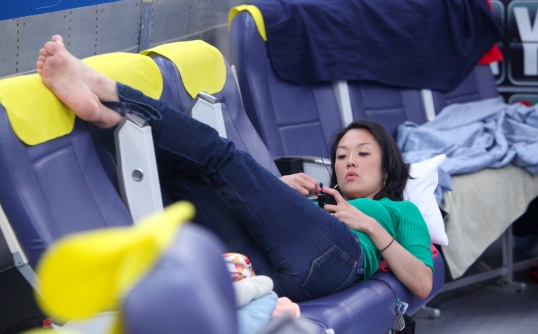 by Gina Scarpa
When we last left the houseguests, they were slipping and sliding all over the Big Brother backyard as they battled it out to become the next HOH. In pairs, they transported barbecue sauce across a playing field to fill a large jug. If they choose to go after a smaller jug first, they can grab a second cup to help them. While they work on that, we flashback to the moment after David was blindsided. Gina Marie cries to Nick, who perfectly plays off a shocked expression, while Aaryn cries in a corner by herself.
Back at the HOH competition, everyone takes a good tumble while Amanda's strategy is just to crawl and slide on her butt. Let's count her and Kaitlin out of this, shall we? Judd and Nick work really well together, unlocking the larger cup to help them, but it comes down to a race between Andy and Elissa and Aaryn and Jeremy. The victory goes to Aaryn and Jeremy, and he decides to give HOH to Aaryn who gets to immediately decide the Have Nots. What a surprise, it's Elissa, Candice, Helen, and Andy.
Aaryn goes on a tirade to figure out who voted David out, then cries in her bed about it. Andy admits to voting David out, but plays the sympathy card when doing so to try to keep himself safe. Up in the HOH room, I'm not sure who's scarier - Aaryn or her first doll growing up, Clowny. Yup, just as horrible as it sounds.
Let the scheming begin! Jeremy tells Aaryn to put Elissa and Helen up, and Jessie is convinced that Helen is the mastermind behind David's exit. Aaryn is still suspicious of her alliance (Jessie, Kaitlin, Gina Marie, Nick, and Jeremy) as she should be!
Finally, the houseguests discuss Aaryn's racist comments and show a few of them too. Gina Marie and Kaitlin are often in the mix too, but alllllll the attention is on Aaryn. If the houseguests want to get to her, the MVP needs to be from Elissa's side and then put up one of Aaryn's allies in the game.
Candice starts to figure out that there must be an alliance of guys working together. She and Helen pinpoint Nick, Jeremy, and Spencer but can't figure out (yet) who else is in the alliance. Speaking of Nick, Jessie is working HARD to get a showmance going with him but he's not having it. By that I mean, he's literally running from her in the house. And she's chasing him! NO AWARENESS.
While Helen tries to call a truce with Aaryn, Spencer suggests to Jeremy that Amanda go up against Elissa on the block. Jeremy blames Amanda for orchestrating David's elimination to Aaryn and he thinks it'll be that easy to sway her.  When the keys are pulled though, Aaryn takes a stand for her own game and puts Elissa and Helen on the block.  The question is: If Elissa wins MVP again this week, who should she put up as the third nominee?

Find out who wins POV on Big Brother, Wednesday at 8/7c on CBS.
(Image courtesy of CBS)

Follow Gina @ginascarpa