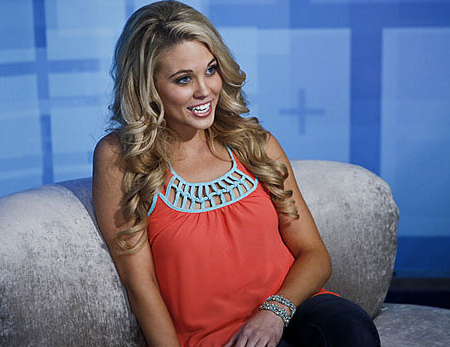 by Gina Scarpa
Big Brother contestant Aaryn Gries picked a bad time to air her feelings her fellow houseguests, who happen to be gay or a minority. Then again, is there ever a good time?! Fresh on the heels of Paula Deen being dropped by Food Network, Aaryn Gries will find herself out of a job once her stint on the summertime reality show comes to an end.
Modeling agency Zephyr Talent has decided to part ways with Gries, following the backlash by fans on social media networks and news articles that have been written about her behavior in the Big Brother house. The agency released a statement this week saying, "Aaryn, season 15 cast member of Big Brother, revealed prejudices and other beliefs that we do not condone. We certainly find the statements made by Aaryn on the live Internet feed to be offensive. Upon much consideration, we have decided to release Aaryn from her contract with Zephyr Talent."
CBS has made their feelings known as well, telling Entertainment Weekly that while they do not condone her behavior in any manner. However, they went to say to that "any views or opinions expressed in personal commentary by a Houseguest appearing on Big Brother, either on any live feed from the House or during the broadcast, are those of the individual(s) speaking and do not represent the views or opinions of CBS or the producers of the program."
Some Aaryn supporters are complaining that she is taking the fall when several other houseguests have made offensive remarks as well. A comment on the Change.org petition to have her removed from the house calls out Gina Marie, Spencer, Kaitlin, Amanda, and Jeremy for their comments, but insist that Gina Marie and Spencer, in particular, have been ten times worse.
The website RealityBlurred recently took notice of an ironic tweet Aaryn posted the month before entering the Big Brother house, which said: "Attractiveness comes from inside. What would you look like if your looks mirrored your words and actions?"  Have you been watching the live Big Brother feeds? Is Aaryn the scapegoat and should others have more attention drawn to them as well? Let us know in the comments below.
UPDATE: Gina Marie's employer, East Coast Pageant USA, has fired her from her job.  Following her dismissal, the company told TMZ, "We have never known this side of GinaMarie or have ever witnessed such acts of racism in the past."
UPDATE: Spencer's employer, Union Pacific, issued a statement regarding his behavior on Big Brother saying, "The values represented by Spencer Clawson's comments during the Big Brother show do not at all align with Union Pacific's values. Mr. Clawson is on unpaid leave of absence while participating on Big Brother. Union Pacific does not condone his comments."
Big Brother airs Sundays, Tuesdays, and Thursdays on CBS.
(Image courtesy of CBS)
Follow Gina @ginascarpa