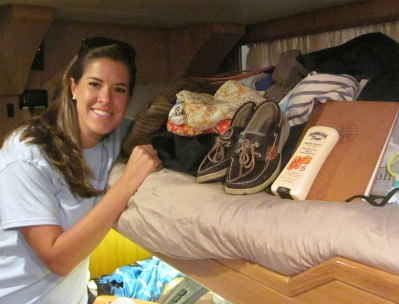 by Gina Scarpa
We're in St. Martin prepping for the first cruise of the season on Bravo's newest show, Below Deck. The mega yacht, Honor, is about to set sail and we're introduced to the crew that we'll be following all season long. There's Lee, the captain, and Aleks, his first officer. Aleks is used to being a captain but he's going to have to take a bit of a backseat while aboard Honor. Ben is an experienced chef who is talented and knows it, while CJ is the first engineer that likes to flirt. Eddie and David round out the guys on the boat, which brings us to the ladies.
Sam and Kat are the yacht stewardesses but have very different backgrounds in the field. Kat has worked on several yachts, while Sam's only experience is being on the yacht her family owned. Apparently, there's a stigma about yacht workers (or yachties) who come from their parents' boats. That's according to Adrienne, who is the chief stewardess for the first time, and takes her job very, VERY seriously.
Before the guests arrive, Lee lays down the rules. There's no socializing with guests and no drinking when the yacht is chartered. When it docks, and they're off the clock, they can have all the fun they want but they need to be on top of their game at all times when working. After all, chartering yachts run tens of thousands (or more) so you can only imagine the size of the tip that happy guests leave behind! In fact, the more I think about it, the more I hear the open sea calling my name...
The first charter guests are a group of photographers who are headed to St. Bart's to pick up a model for a shoot. They're loud, they're drunk, and they like to party. When they approach Sam to model, Adrienne tries to show her up by changing into a more provocative uniform. One photographer in particular, Johnny, is a bit of a handful and tries to get Eddie to drink even though he says repeatedly that he can't.
While cleaning up, Kat notices white powder one of the guest's bathrooms and reports it to Adrienne, who reports it to Lee. There's a chain of command on this boat and according to Lee, you always follow the chain. With the possibility of drugs on the boat, everyone is in danger of losing their license so Lee immediately turns the boat around and ends the charter. Once they dock, he informs the photographers to clear out immediately, who are offended and embarrassed.
Once that drama subsides, the crew cleans the boat from top to bottom but Sam decides it's time for a nap. During a crew dinner later on that the photographers missed out on, Adrienne confronts Sam in front of everyone, who tells her to cool her jets. Oh, these two are not going to get along this season!
Which crew member would you want to take care of you if you were an Honor guest? Let us know what you think of Below Deck in the comments below!
Below Deck airs Mondays at 10/9c on Bravo.
(Image courtesy of Bravo)
Follow Gina @ginascarpa