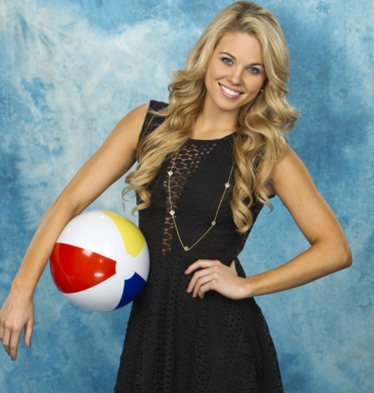 by Gina Scarpa
Based on first impressions after Big Brother premiered this week, Aaryn Gries seems like a contestant not to be underestimated. With looks and charms to boot, she also proved to be a worthy competitor during the first HOH competition, which was an endurance challenge. She aligned herself with David, and it's hard to imagine him straying, especially with the flirtation going on as an added bonus. Some fans, though, are not quite as taken with her as David is. In fact, they're petitioning CBS to get her out of the house!
Soon after the feeds went live, a petition went up on Change.org asking CBS to remove the Texan for her "racist and homophobic comments" made about other houseguests. The petition, thus far, has gotten a few hundred signatures. Fans on Twitter have also taken notice of Aaryn's behavior. Season contestant Ragan Fox tweeted, "Um. Yikes. Glad I'm not watching the feeds. This stuff is pretty gross. I hope Aaryn & Spencer go and go soon." The Big Brother spoiler feed HamsterWatch wrote, "Aaryn: "the whole point of doing this is to play Big Brother" ......her legacy will be something else entirely #oops #bb15"
Have you seen Aaryn on the live feeds and what do you think? Should fans sign the petition to get her out and should CBS listen? Let us know in the comments below!

Big Brother airs Sundays, Tuesdays, and Thursdays on CBS.
(Image courtesy of CBS)

Follow Gina @ginascarpa