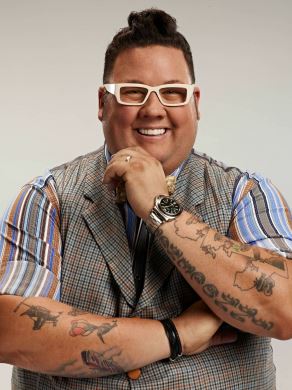 by Gina Scarpa
Graham Elliot not only looks to mentor the amateur chefs competing on MasterChef each season, but learn from them as well. Though he's the mildest in temperament of the three judges, his passion is undeniable and his standards are sky high. Before tonight's episode airs, we chatted with him about last week's eliminations, the return of season 3 winner Christine Ha, and his new show in the works.
Q. Gina, RealityWanted: What keeps bringing you back to MasterChef each season?
A. Graham: The chance to keep meeting new contestants. It's great to discover the next great amateur chef! It's always interesting to see how they do things with different ingredients. They'll do something new or have a different take on it, or sometimes, they do exactly what I would've done.
Q. Gina, RealityWanted: How has the caliber of chefs changed since the first season?
A. Graham: I think it's changed amazingly. The food in the beginning of this season is what you would've seen in the finale of season 1 or 2. We have to go back and change things to make it more challenging for them.
Q. Gina, RealityWanted: Is there any challenge over the years that you look at on MasterChef and say, "Boy, I'm glad I didn't have to do that"?
A. Graham: Yeah, there have been many but the one where you have to cook in the woods comes to mind. You get dropped off on the side of the mountain with some materials, flint, and a tent. The stuff they come up with is amazing! There's no, no way I'd wanna do that.
Q. Gina, RealityWanted: What did you think of Howard's choice last week to use cumin in a pasta dish?
A. Graham: You know, I felt sorry for Howard. He has a big heart, but don't defend yourself when you're wrong.
Q. Gina, RealityWanted: And then we saw Bime go home, who was well liked by the fans and did well in the competition. What did you think when you saw his lemon meringue pie?
A. Graham: Bime's elimination was brutal. I love him and saw so many similarities between us. We're both tatted up, we didn't graduate high school, and both have kids. The pressure test shows that you can be great at so many things but it can come down to something you don't know how to execute. That pie sucked. I had to spit it out, my mouth was foaming!
Q. Gina, RealityWanted: Tonight, last season's winner Christine Ha returns to give the chefs a challenge. It must have been nice to have her back in the kitchen!
A. Graham: It was so great to have her back, she's so inspirational. To have her come in and have these chefs cook blindfolded, it was amazing to see what she and other blind chefs go through on a daily basis.
Q. Gina, RealityWanted: We'll also see the chefs take on a wedding, which I imagine is going to be very demanding.
A. Graham: Definitely, I think it's more the actual logistics of the wedding! There's hundreds of people and you have this much time and this many hands. Then, there's the vegetarian uncle, the cousin that doesn't eat fish, and it can get complicated.
Q. Gina, RealityWanted: I've always wondered how to stop cooking using a recipe and be more creative, like the contestants on MasterChef. What's your advice on how to start?
A. Graham: What I would recommend is to spin your globe, or your Google Earth, and pick a country. Read up on their food and pick up ingredients from that region. It can be anywhere in the world, or a specific region of the U.S. Once you have a understanding of the history, culture, and flavors, you're more able to spontaneously put a dish together.
Q. Gina, RealityWanted: When you're not filming for MasterChef, what else do you have going on right now?
A. Graham: I'm working on my own show on Spike, it's called Covert Kitchens. It's time for these chefs to get off the bench and into the show. They have 36 hours and $3600 to create a kitchen in a unique setting.

MasterChef airs Wednesdays at 8/7c on FOX.
(Image courtesy of FOX)

Follow Gina @ginascarpa