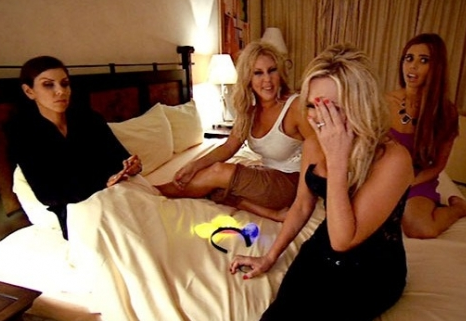 by Gina Scarpa
While Gretchen and Heather wait in a limo in Mexico, the other Real Housewives of Orange County continue to party for Tamra's bachelorette party. After waiting around for far too long, the pair decide to hail a cab and head back to the hotel. When Tamra, Vicki, and Lydia return (still drunk), they keep giggling at the night they've had. Tamra tries to apologize but Vicki can't stop laughing, causing Gretchen to storm off to her room and slam the door. Perhaps even more upsetting than Vicki's lack of remorse is her overabundance of pee, and she leaves a little gift on Tamra's bed before going to sleep.
The next day, the women try to put things behind them for a sightseeing tour but things quickly heat up when Lydia says that the night our dancing was the highlight of the trip. Gretchen continues to call Vicki a hypocrite and a bitch, then bursts into tears. I'd feel bad for Tamra, since this is supposed to be her trip, but I feel even worse for Hector the tour guide. Talk about awkward!
Things don't get any better during drinks by the pool, when Vicki starts throwing around comments about how close Tamra and Gretchen have become. Alone on the beach, Tamra reveals that Vicki had a plan to leave Gretchen and Heather behind, intentionally wanting to upset them. She also opens up to Gretchen about why she pushes people away just when they start to become close. Gretchen becomes the only housewife to really know Tamra's story and it brings them back together.
Back in the OC, Alexis fills Jim in on the bachelorette party over dinner but he has no interest in hearing about it. It's clear he wants to remain as distant as possible from them, but he doesn't mind being on their show in front of their cameras. Just saying. The topic of children comes up and Alexis seems ready to have another one. I wish I could say Jim was on the same page.
The last night in Mexico involves strippers, which Lydia doesn't want to be a part of (and I wouldn't either). It's a whole lotta gyrating, grabbing, and shimmying. She should be glad she missed it. The photos on Heather's phone paint the picture the next morning during breakfast and the trip comes to a close with many of the women more distant than before.
The Real Housewives of Orange County airs Mondays at 9/8c on Bravo.
(Image courtesy of Bravo)
Follow Gina @ginascarpa