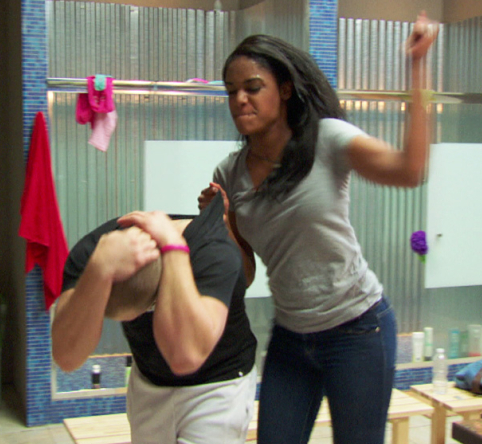 by Gina Scarpa
So this is the brawl we've all seen bits and pieces of in teasers throughout this season of The Real World: Portland. Let me tell you, I had no idea what I was in for - and I'm sure you didn't either! First, though, let's focus in on Jessica, who was recently dumped by Tyler. She's decided to swear off sex, takes a vow of celibacy, and buys a purity ring. As she reads about abstinence on Wikipedia, Anastasia sits her down to tell her that she's self-centered, fake, and doesn't want to be her friend.
While most of the roomies head out on a fishing trip, Nia steps in dog poop in the confessional. As she washed off in the shower, her screams could be heard throughout the streets of Portland. Who can blame her? When everyone returns, with Daisy in tow, Nia scoops her up only to learn that she absolutely stinks. Johnny discovers that Nia didn't clean up the confessional and demands that she does it, but she refuses. It's not her dog, it's not her fault Daisy isn't walked enough, and she's not cleaning it up. Again, who can blame her? When Anastasia steps in to try to settle the argument, Johnny screams at her to shut up, causing her to burst into tears.
Averey and Johnny tell Nia if she's not going to clean it up, and it's not her dog, then she shouldn't play with or be around Daisy at all anymore. Of course, Nia's not going to listen to that so she purposely taunts the couple every chance she gets by making kissing noises at Daisy, scooping her up, and saying it's her dog. Johnny decides to confront her and randomly places a tissue on her, causing Nia to hit him with it. He then tries to dump his drink on her, and she goes on the attack. Nia lands many, many punches before Jordan and Marlon step in to break it up. If you were waiting for production to step in and end the fight, keep holding your breath.
When Nia goes after Johnny a second time, Averey jumps in the fight and the girls, once again, have to be torn apart. As they continue to go at it, Ana and Jess decide that their differences are pretty minor in comparison to what's going on in the house. Just when you think the fight is over, Nia hauls off and slaps Averey upside the head as she stands in front of the mirror. On next week's finale, the house meets to decide if Nia should have to leave the house. Are there no rules about fighting anymore on The Real World or The Challenge?
The Real World: Portland airs Wednesdays at 10/9c on MTV.
(Image courtesy of MTV)
Follow Gina @ginascarpa