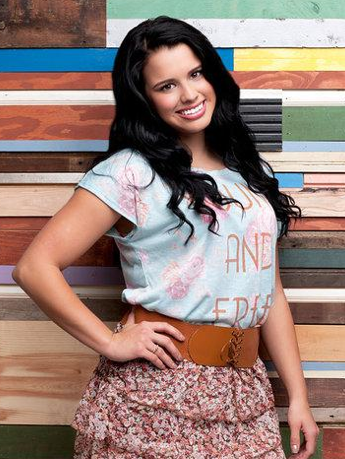 by Gina Scarpa
Jessica McCain left her hometown of Fayetteville, NC to meet new people and gain new experiences this season on The Real World. It turns out she got a little more than she bargained for in Portland. Besides the over the top fights between the roommates, she found that Averey and Anastasia were avoiding spending time with her altogether. Thanks to support from roommate Nia and a relationship with Tyler, she was able to push through the tougher times and find the positives in the experience. We talked to Jess today in an exclusive interview about romance, roomies, and relationships on The Real World.
Q. Gina, RealityWanted: What made you decide to audition for The Real World? What were you hoping to gain out of the experience?
A. Jessica: I wanted to try out for The Real World because I wanted to get outside of Fayetteville and find myself. By that, I mean, I wanted to know how I would react to certain situations if I didn't have my parents saying, "Hey Jessica, you better not do that. That's not a good idea!" I didn't have the counsel of my church. I got to be my own person for my once in my life. That's really what I was looking for, but I think the mistake I made was trying to get friends.
Q. Gina, RealityWanted: I want to ask you about your relationship with Tyler. Looking back on it, were that a relationship with genuine feelings or was he a rebound?
A. Jessica: At first, I was scared because I didn't know if he was genuine or not. I told Nia, "He's the kind of guy you marry!" He was awesome and I didn't want to mess it up or hurt him. There were definitely genuine feelings and it was not a rebound. I was still pretty shook up from relationship with my ex. He made comments about my weight and wasn't kind to me towards the end.
Q. Gina, RealityWanted: It seemed like you were pretty close to everyone in the beginning but things started to shift and people were leaving you out of their plans. In your mind, what happened or what changed?
A. Jessica: You know, things change on the daily that I'm still like, "What the hell happened?" People get certain ideas about others and they pre-judge them. They say, "I'm not going to like them because of this or that." If you see in the aftershows, the roommates couldn't give a reason why they didn't like me. I'm still trying to figure out a lot of this. I got heavy-handed about talking crap behind people's backs. When I said something in the confessional, it's probably one of the four times I ever said anything bad about someone. I don't know! I can't figure out a lot of my roommates.
Q. Gina, RealityWanted: Do you feel like Nia contributed to the drama or distance between you and Averey and Anastasia?
A. Jessica: Honestly? I think they were already distant. Nia just realized I was struggling with it, struggling to accept that people aren't kind or nice all the time. Sometimes, people are mean just because they're hurting. Nia helped me realize that and get a grip on stuff. I know how it looks but Nia really helped build who I am now.
Q. Gina, RealityWanted: After the bathroom confrontation between you and Averey at the club, Johnny repeatedly called you fat to push your buttons. Did he know that your ex used to make comments about your weight?
A. Jessica: Johnny didn't know that because Johnny, nor Averey, took the chance to get to know me. There was one time I tried to talk to him about my past. He did not know that but calling a girl fat is a go to, like saying a guy has a little penis. I happened to gain weight after my breakup and gained more when I got to the house. It's something I was sensitive about.
Q. Gina, RealityWanted: There have been some crazy arguments and fights so far this season, and it seems like there's still more to come. How did you handle things when it got out of control?
A. Jessica: I cried a lot! I stayed out of it as much as I could, but Tyler was there for me. If you don't see me, I was usually with him. He would let me talk about my feelings. I didn't wanna talk about people to Nia and stir things up. I didn't wanna talk badly about people at all. It was scary and I didn't like it. I needed someone to be there to comfort me.
Q. Gina, RealityWanted: What do you think will become of your relationships with everyone in the house?
A. Jessica: Well, I think in the end, after the season is over, people will realize, "Hey, Jessica is the genuine person she claimed to be!" I actually got a very long book of a text message from Anastasia after last week's episode. We had drinks in New York a few weeks ago and she apologized then. She gave me another heartfelt apology last week. I think out of this, Nia, Ana, and I will be closest.
Q. Gina, RealityWanted: What are you hoping viewers will know about you by the end of the season?
A. Jessica: Doesn't tv tell everything? I think the show did a great job of displaying a lot of things. I want viewers to know that regardless of editing or how I interacted with my roommates, I would be there for them.

The Real World Portland airs Wednesdays at 10/9c on MTV.
(Image courtesy of MTV)

Follow Gina @ginascarpa