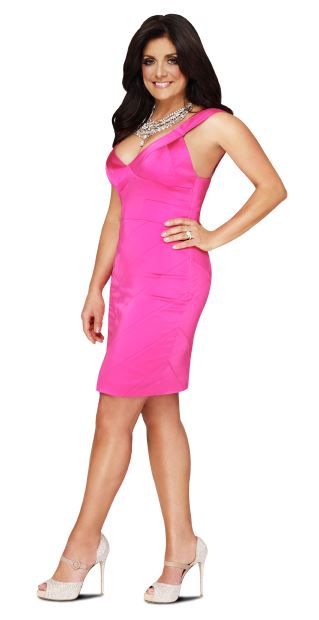 by Gina Scarpa
In just two short weeks, The Real Housewives of New Jersey will return to Bravo for another entertaining and drama filled season. When we last saw cast member Kathy Wakile, her dessert line was taking off, she was agonizing over putting daughter Victoria in college, as well as navigating a difficult relationship with Teresa. Season 5 reunites Kathy with Teresa Giudice, Melissa Gorga, Jacqueline Laurita, and Caroline Manzo, and throws a few new faces into the mix as well. We talked to Kathy in an exclusive interview to find out what's been happening in her life since Season 4 and talk more about putting both her life and her family's life on display.
Q. Gina, RealityWanted: What's been going on in your life since we last saw you?
A. Kathy: Wow, since you last saw me, I've been really busy with my desserts! I've come out with my Dolci Della Dea Cannoli kit and I was getting it ready and prepared for the retail market. I was on QVC twice and I'm taking things to the next step. It's a startup business that I started on my own with my husband. That right there is a big, big step. We went through a lot to get it off the ground.
Q. Gina, RealityWanted: There are some new cast members that came aboard this season and, without giving away too much, how has that changed the dynamic of the show for you?
A. Kathy: Not too much at all actually. I'm pretty easygoing, I like to meet new people, so that went over really well.
Q. Gina, RealityWanted: Parenting has always been a huge part of what we see from you on the show. What challenges can we expect to see as the kids are older?
A. Kathy: I think the challenges were more on my end, learning how to let go a little bit and me not dealing with the guilt so much. I took time away from them to get this business going. I'm not used to that, or used to them fending for themselves.
Q. Gina, RealityWanted: One really great thing about you is your involvement in various charities. Which organizations are closest to your heart?
A. Kathy: Yeah well, it's great that you asked that. I'm going out to LA in the beginning of June for a Children's Brain Tumor Foundation event. She was really fortunate to have survived it without any re-occurrence. Anything that has to do with that or raising awareness has what got my heart, anything to do with women and children and family.

Q. Gina, RealityWanted: You come across as such a grounded and down to earth person. How do you maintain that while being a reality television star?
A. Kathy: It's not like I'm reading anything from a script. I'm being myself, it's my life, it's a reality show, the good and the bad. I think the only way you remain real is to stay yourself. You make some minor adjustments once you're recognizable but you have to keep the same things you used to do.
Q. Gina, RealityWanted: When people fight on your show, it's different than the other Real Housewives seasons because you really are family. Did you, or anyone, have apprehensions about returning because of the feuds?
A. Kathy: Well, you know, of course you're going to be apprehensive but when you sign on to do this and promise to be real and as authentic to who you are, these things come up. Family conflicts do occur in all walks of life. At the same time, there's resolution. You have to look at it from all sides. It gives other people... I don't know if I wanna say hope... but it's relateable.
Q. Gina, RealityWanted: If you could go on a week long trip with any housewife from any city, who would you want to spend time with?
A. Kathy: That's a good one! That's tough, I have my favorites in every city. The first one that comes to mind is Sonja Morgan. She would be a hoot to hang out with!
Stay up to date with Kathy by visiting her site at kathywakile.com. The Real Housewives of New Jersey premieres June 2nd at 8/7c on Bravo.
(Image courtesy of Bravo)

Follow Gina @ginascarpa