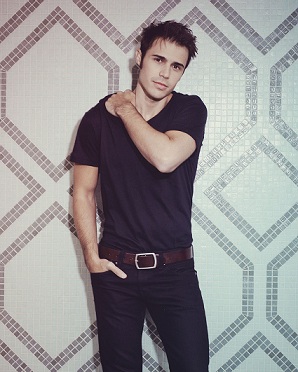 by Gina Scarpa
Tomorrow night, either Candice Glover or Kree Harrison will be named the new American Idol. They'll embark on a nationwide tour, then head right into the studio to record their debut album - a dream come true for any contestant. As we await the final performances and results, RealityWanted caught up with Season 8 winner Kris Allen on tour at Mohegan Sun in Connecticut, and talked life post-Idol, becoming a dad, his second album, and his loyal and devoted fans.
Q. Gina, RealityWanted: I've always wanted to take a camera and following reality contestants the year after their show ends and see what that next step is like. What was going on with you post-Idol and what do you think is the biggest misconception about being a winner?
A. Kris: I would say the thing that I was doing was we had to get ready for the tour. The show ends in May and the tour was July, August, and September. During that whole time, I was making my record too. I was spending time in meetings about who my agent was going to be, who my lawyer was going to be... I mean, you gotta figure all that stuff out afterwards. There's a lot of that, a lot of boring crap, but stuff that you have to have. I'm trying to think about the biggest misconception. Oh! You know what? Everyone thinks you get a million dollars when you win the show. Not true at all.
Q. Gina, RealityWanted: What do you think is the biggest difference between the first album you released post-Idol and this one?
A. Kris: I got to spend a lot of time on my second record and I think it shows. As an artst, a songwriter, and a singer, I feel like I've gotten better. I feel more confident in my songwriting and I think it just had a more put together vibe than the first one did. I think I had 2-3 months to make the first record while I was on tour. I just had more time, I was able to put myself into it more. I was able to play on this record, be a part of the production process, and it was way more like putting together a record was what I thought it was gonna be.
Q. Gina, RealityWanted: You're expecting a baby boy over the summer which is so exciting! Will you be taking some time off from being on the road and what's coming up for you after this tour?
A. Kris: After this tour, I plan on getting back in the studio. I took some time off in March and the plan was to start the recording process for another record, but I got injured and wasn't able to do that. The plan is to get there now after this tour, get back in the studio, do some more writing. I'm excited about making a new record and some other things I'm involved in... I wish I could say! There's another project I'm getting involved in that's been a lot of fun and I can't wait to tell people about it.
Q. Gina, RealityWanted: When I tweeted that I was excited to interview you, I had responses from your fans within seconds! Tell me about them and the loyalty they've shown you over the years.
A. Kris: You know what? I've been doing this for four years now and the amount of fans has grown, which has been great. What I've seen is that you get these cool fans that really care about you and feel like they know you. They want to do cool things for you. I just got 17 gifts, I have no idea who they're from. They care about you, they want you to succeed, and so they come to 10 shows. There's a group of people coming to 5 shows in a row and it's like, "Are you serious? What are you doing?!"
Q. Gina, RealityWanted: What is your favorite thing to do during a live show?
A. Kris: I have a great band and so I really enjoy stuff like "Monster", a song that we do, and it showcases them a little bit. It shows a lot of the arrangements that we do. It's just a different arrangement of the song. We do the same thing with "Rooftops", but I think my favorite thing is getting the crowd to sing. There's a song called "My Weakness" and after that is a whole singalong thing that's great.

Find out what Kris is up to by going to his website, krisallenofficial.com, or by following him @KrisAllen

(Image courtesy of Kris Allen)

Follow Gina @ginascarpa