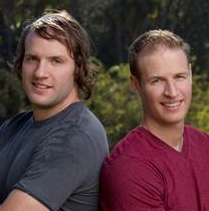 by Gina Scarpa
Hockey players and brothers Bates and Anthony Battaglia were a force to be reckoned with this season on The Amazing Race. They were in the top three on 9 of the 12 legs, and crossed the finish line first on Sunday night's finale. The pair won a million dollars and were understandably still giddy when they talked to RealityWanted today about their victory.
Q. Gina, RealityWanted: First of all, congratulation on winning The Amazing Race. What did you guys do last night to celebrate?
A. Bates: We drank heavily!
A. Anthony: We had champagne and Gatorade poured over our heads. We're athletes!
Q. Gina, RealityWanted: You worked very well with Caroline and Jen this season, and they kept some of the attention off of you when it came to other teams looking to U-Turn you. Tell us a little more about your partnership.
A. Anthony: We helped each other out and we just wanted them in front of us so we could see their asses. That's totally true.
A. Bates: He's completely right.
Q. Gina, RealityWanted: You ran such a great race and really only struggled on the 4th leg. What was your biggest issue in Bali?
A. Anthony: It was tough because the things that hurt us the most were out of control, like bad taxi drivers and monkeys that wouldn't eat coconut.
A. Bates: That Bali trip was tough!
Q. Gina, RealityWanted: How did you feel the last leg was, in terms of difficulty?
A. Bates: I mean, it wasn't super hard. It wasn't the easiest, but we kinda got lucky with the briefcase challenge and we pulled ahead of everybody.
A. Anthony: 'Cause we're pretty awesome!
Q. Gina, RealityWanted: As you were running towards the finish line, were you a hundred percent certain you had won?
A. Bates: No, not really. When we were running up there, we thought, "We must've done something wrong!" We saw Phil's eyebrows and we thought he'd say we did something wrong and had a two hour penalty.
Q. Gina, RealityWanted: If there was another All Star edition, do you think you'd fare just as well as you did this season?
A. Anthony: I would think so! We're probably the best team ever!
A. Bates: Plus, we're hilarious! I don't wanna toot my own horn, but we're freakin' hilarious!
Q. Gina, RealityWanted: Besides the obvious part about winning the million, what was the best part about running The Amazing Race?
A. Anthony: Honestly, the whole thing was amazing. I know that everybody says it, but it was amazing! It was the most fun... I would do it again in a second. Everything was awesome!
Q. Gina, RealityWanted: I hear you two would like to travel more, and you want your Twitter fans to get behind you for perhaps another show.
A. Bates: Yeah, vote for us! Battaglia and Battaglia Do America.
A. Anthony: No, no... it's #HockeyBrothersDoAmerica!

(Image courtesy of CBS)

Follow Gina @ginascarpa