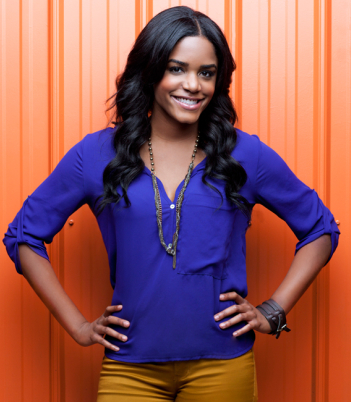 by Gina Scarpa
When The Real World Portland's Joi decided the experience wasn't everything she was looking for and left just a few days in, the roomies were hoping for a replacement they could all get along with.  That turned out to be mostly true with their new roomie Nia who, while very cool at times, can't help but love to rock the boat a bit.  Okay, a lot!  We talked to "Hurricane Nia", as she is sometimes known, about the road to The Real World, getting along with the girls, and whether or not what we're seeing is a true representation of who she is.
Q. Gina, RealityWanted: You had a little bit of a different journey, getting onto the show. Tell us a little bit about that.
A. Nia: Okay, so I have obviously applied to be one of the originals. I was kinda shocked that I didn't get it but I had a feeling there was still an opportunity to come out. When they called me, I was so excited. I packed up all my stuff and was there two days later.
Q. Gina, RealityWanted: The girls in the house were definitely apprehensive about you and I was wondering if you have a lot of female friends in your life.
A. Nia: I won't seek it as much but the girls in the house were a lot more sensitive and at times, weak. It was young girl stuff. Most of the women I'm around are grown women so at least they would hide it a lot better. I was not really surprised. It was lame to me because I feel like I was racially profiled. It was like, she parties too much, she looks like she wants to fight. How do you get that from "Hello"?
Q. Gina, RealityWanted: You walked into a lot of drama, especially between everyone and Jordan. Did it surprise you how quickly they were all fighting with each other, considering it was still so early on?
A. Nia: Kinda because when I came in, I was expecting people to put their best foot forward. I didn't see any tension until people started filling me in about Jordan, that apparently he was the nucleus of all the drama. I was like, "I'll take your word for it, but I'm not going to judge him." I'm a guy's girl and I don't get offended about the stuff he does. It took a week of things you guys didn't see to lead up to the thing in the kitchen with Jordan.
Q. Gina, RealityWanted: I think I speak for everyone when I ask, what were you doing with him?
A. Nia: Well, this is the thing. I told everyone in the house what I was going to do. I said I was going to pretend like I wanted to get him in bed. I told them, "I'm gonna expose his little secret." I thought it was funny that they really believed I was gonna have sex.
Q. Gina, RealityWanted: You've been a good listener to a lot of the people in the house, and then you have your moments like the pool table incident with Jordan. Do you feel like we're getting to see all sides of you, accurately?
A. Nia: So far, I feel like I've been fairly portrayed. There's good and bad, and I'm willing to own up to it.
Q. Gina, RealityWanted: Marlon was pretty hooked on you right from the beginning. Was it that obvious how much he liked you?
A. Nia: No, I mean, I just assumed he's a guy. He's a black guy, I'm the only black girl... at least, to me, I didn't know they had all these conversations behind my back. I had no idea! Marlon is like my brother!
Q. Gina, RealityWanted: How are your relationships with everyone in the house now and are they the kind of people you would be friends with outside of the show?
A. Nia: My friends... you would never think all these people would be friends with me. I have friends that at 60, I have friends that are white, black, purple. I felt I could get along and really relate to everyone. In that situation, would I prefer to kick it with those people every day of the week? No. I think I'm a lot more open to things and a lot more raw. Those people are small minded, stuck in their own bubble, and I'm very much the opposite of that. Joi, crazy as it sounds because we never met on the show, we talk every single day. She is very open minded, mature, and a lot more experienced.
Q. Gina, RealityWanted: It looks like you're about to get into a pretty big fight on the show. What do you want people to understand about you?
A. Nia: I did messed up stuff in one episode but I have the biggest heart. I'm a flawed human being, I twist the dagger in situations when I should walk away. I don't get into physical fights. I was in one when I was 16... I was in a situation where I was physically assaulted first, and I did what I wanted to do. At that point, I feel like it was justified. I'm not like some violent, volatile person. My friends at home are so shocked at what they're seeing.
The Real World Portland airs Wednesdays at 10/9c on MTV.
(Image courtesy of MTV)

Follow Gina @ginascarpa