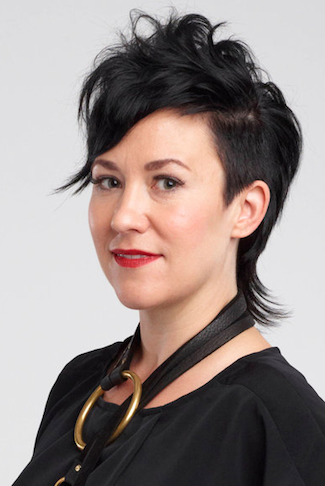 by Gina Scarpa
On last night's finale of Project Runway, the judges named Portland based designer Michelle Lesniak Franklin the winner of Season 11. Up against finalists Stanley Hudson and Patricia Michaels, her lone wolf collection at Fashion Week won the panel over and took home the $100,000 grand prize.  We talked to Michelle today in an exclusive interview about how she almost walked away from Project Runway, her confidence level at Fashion Week, and what it means to have won the show.
Q. Gina, RealityWanted: Was it your idea to try out for Project Runway or did someone suggest it to you?
A. Michelle: It was my idea. I applied one other time before and I got really far in the process in Season 9. When I didn't get in, I was devastated and said I would never do it again. They contacted me for Seasons 10 and 11, which they were casting at the same time, and I was like, "No I don't think I want to." They said I didn't have to do the paperwork again and my husband said that now I know the process, I should do it again.
Q. Gina, RealityWanted: It's crazy to think that you almost quit the competition and now, here I am talking to you as the winner of this season. What was going through your mind when you almost walked away?
A. Michelle: It is by far the hardest thing I've ever done and also, the most rewarding. Whether you win or lose, you learn a lot about yourself. You learn even more about yourself when you watch yourself. You see your personality and your mannerisms come across on television. When I was going to quit the show, I was reminded that you only live one life and you need to live it without regret. If I would've quit, I would've had a huge regret. And I'm not a quitter, it's not my personality!
Q. Gina, RealityWanted: Was it hard for you ever in the challenges, being told what to make and in what time frame to make it in?
A. Michelle: I think that I actually had one of the easier times doing it. I don't know if it's because I'm good at time management or because I like a challenge. I thought I was really successful and felt I rose to the top. Even stuff they didn't like of mine, I thought was brilliant.
Q. Gina, RealityWanted: If you could pick one design from the season to put in a storefront window, what would you choose?
A. Michelle: Probably when everyone went off to Europe, that challenge. The cashmere dress really was a jumping off point for my fashion line that I showed. It screams me and it was really when my aesthetic came to fruition in front of the judges.
Q. Gina, RealityWanted: Though you may not have seem like a clear frontrunner necessarily, throughout the season, one thing you did do was win over fans of the show. So many people were convinced you were going to win before the finale even aired. What has the support from the fans been like?
A. Michelle: Golly, I don't think that I got tons of support from the fans. I read a lot of negative feedback. I think maybe it was earlier on that people were like, "She's mean-spirited, she's negative!" and I was like, "I'm not a mean person!" It was until the second to last episode that people were like, "Oh yeah, she's got this."
Q. Gina, RealityWanted: Your collection at Fashion Week was amazing and Zac Posen said it was a "real collection". Tell us more about your inspiration and how you arrived at the finished collection.
A. Michelle: I went through the entire process like a lone wolf and I feel like a lot of strong, independent women feel like lone wolves. That was my inspiration for the line and you know, this is the biggest platform to show your work. To arrive at that platform not prepared would be a tragedy. I would never want to show up underprepared so I showed up finished!
Q. Gina, RealityWanted: How did you feel about the collections Patricia and Stanley put out and how confident were your as you stood before the judges?
A. Michelle: I was totally confident! I loved their work, but I've always felt that mine has been the best. As a designer, that's really how you should feel. I believed in it! When I unpacked my bags in New York City, I knew I was going to win.
Q. Gina, RealityWanted: How does winning Project Runway change your career and what plans do you have coming up?
A. Michelle: Well, just being on the show, I can't keep my designs on the shelf. The places I sell at, they sell out immediately. That's incredibly fantastic but it's tough because I'm a one woman show. Now, I can hire more teammates and get more products made so I can sell more. It's constantly moving forward in that organic fashion. I'm not the kind of person that's going to take out a $1.5 million dollar loan and start a huge corporation. I'm doing this in a completely organic way.
Check out Michelle online at au-clothing.com!

(Images courtesy of Lifetime)
Follow Gina @ginascarpa