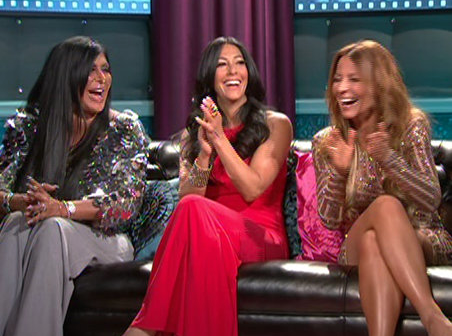 by Jessica Blackwell
First off, I must say that there were so few previews for this reunion, I forgot it was even happening! All the ladies, minus Love, joined Dr. Drew on stage to re-hash what he calls the most explosive season of Mob Wives ever! The drama started so quickly that Dr. Drew couldn't even get their yelling under control and he had to scream over them to get a word in edgewise. 
Carla felt like all season it was her against "those girls" and the reunion was no different. Ramona exposed Carla as a racist, saying that she hates Puerto Ricans and Black people and said that she's constantly talking about other people behind their backs. Carla did deny being a racist...but not with the vigor I felt she should have. Hmmm...
As for her explosive fight with Love, Carla felt like Karen and possibly some of the others set her up. Dr. Drew confirmed that Love was fired from the show, but the ladies still got the chance to "tell her" how they felt about her attack on Carla. Most of the ladies felt it was wrong for her to attack Carla the way that she did, but Karen boldly claimed that Love had every right to attack her because Carla got in her face. Hmm..that's a far cry from the apologetic Karen that chased after Carla to make sure she knew she had nothing to do with the fight. 
Renee, despite being called a junkie, is still clean. Carla apologized to her and AJ for comments she made about Renee's addiction and AJ is still planning on moving to Miami. I hope she stays clean when dealing with his absence. Despite all the ups and downs that she and Lee have had, he's home now and Drita says they're happier than ever. Dr. Drew took a hard shot at her when he accused her of subjecting her daughters to the ups and downs of prison life, but she owned it, admitting that she feels guilty. Ramona is still planning her wedding to her convict fiancé. She's so joyful about her upcoming nuptials that she even invited Carla, the person she threatened to use one of her ribs to floss her teeth with  after she eats her skin! Ew! 
Although the reunion was packed with plenty of drama, I still think it would have been wayy better if Love was in attendance. I still want to know exactly why she was fired. I guess it was for her crazy behavior, but that's not the first time a fight has come to blows on this show. I wonder who will replace her next season?? We'll have to wait to find out! 
Mob Wives airs Sundays at 8/7c on VH-1. 
(Image courtesy of VH-1)