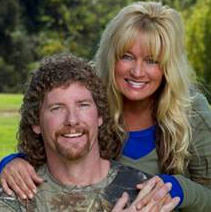 by Gina Scarpa
Married couple Chuck and Wynona McCall faced a tough race this season on The Amazing Race. Often battling the threat of elimination, they came through when it counted and made it all the way to the eighth leg in Switzerland. There, they faced a penalty for not reading all of the instructions at a Switchback task, allowing Meghan and Joey to squeak by them. We talked to Chuck and Wynona in an exclusive interview today about the stress of the race, as well as the good times along the way!
Q. Gina, RealityWanted: Whose idea was it to try out for The Amazing Race?
A. Chuck: I actually had a friend of mine, Bobby, who did Survivor a couple years back. He knew we were interested in the race and turned our names in for it. We got some calls, filled out an application, and sent in the video.
Q. Gina, RealityWanted: There are so many stressful aspects to the race. Which was the toughest for you guys?
A. Wynona: I'm gonna say the language barrier was the toughest part for me. If you found someone who spoke English when you needed it, it was so helpful.
A. Chuck: You get jet lagged with the travel. You sleep on airport floors and it takes a toll on you.
Q. Gina, RealityWanted: There have been a good amount of alliances this season. Were you trying to work with others or did you prefer to run alone?
A. Chuck: Well, I think we started out just trying to run our own game. We've seen all these other teams hooking up, talking, and always strategizing. It does help because everyone's talking so we hooked up with Anthony, Bates, Caroline, Jen, and Max, and Katie.
Q. Gina, RealityWanted: When you were U-Turned in Vietnam, what was your reaction?
A. Chuck: At that point, we knew Dave and Connor had an injury. When we got U-Turned, our hearts sunk. We were at the back of the pack, why not go for someone stronger? We were saved by Dave and Connor.
Q. Gina, RealityWanted: Wynona, that Road Block in Switzerland this week was crazy, between the tunnel and then the height of being on that mountain! How did you deal with it?
A. Wynona: It was hard because just going up the mountain was making me dizzy! Going out to traverse the side of the mountain, I didn't focus on how high I was.
A. Chuck: That was tough on Wynona! She's my one climate girl, and she definitely doesn't like the snow.
Q. Gina, RealityWanted: There were times that the two of you argued over things in the race and Wynona, you felt like Chuck was disappointed in you. Do you feel like you handled the stress well or do you wish you had reacted differently at times?
A. Chuck: You know, me and Wynona have been married for 25 years. They played a lot of us fussin' at each other. Our home life isn't quite like that. She's the greatest mother and wife, but we were thrown into a very stressful situation. I tended to blast her.
A. Wynona: I would have to tell him to chill out and to have fun with this. It's an amazing adventure that we've been chosen to go on. I know we want to win the million, but we have to have fun with it too.
Q. Gina, RealityWanted: Since it won't be you crossing the finish line, who are you rooting for?
A. Chuck: It would have to be someone out of our group that we made our alliance with. It won't be Meghan and Joey, we were fighting with them the whole time!
The Amazing Race airs Sundays at 8/7c on CBS.
(Image courtesy of CBS)
Follow Gina @ginascarpa